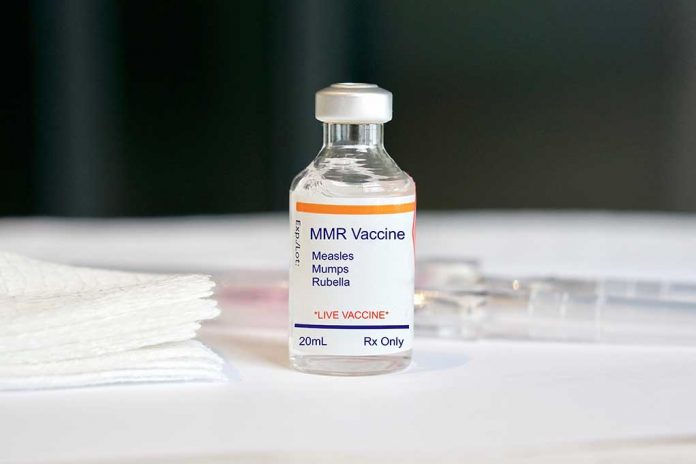 (DailyDig.com) – Measles is a viral infection that poses a serious threat to small children. Even so, the infection is easy to prevent through the use of vaccines. In fact, 90% of Americans are already vaccinated for it. So, why is it once again making the news?
With the Taliban taking over and assuming control of Afghanistan, refugees need safe places to go to restart their lives. The US decided to take in a number of evacuees. But while most American children and adults received the measles vaccine in childhood, other countries don't follow the same protocol — including Afghanistan.
Measles cases result in temporary halt of flights of Afghans to U.S. https://t.co/qe3D1EOSm7 via @nytimes

— FAIR (@FAIRImmigration) September 12, 2021
Biden's administration placed a hold on US-bound flights filled with refugees after Virginia reported five cases of measles associated with incoming Afghan passengers. Health officials in the state did not release the location or details about those infected with the illness for privacy reasons.
Another confirmed case of measles popped up in Wisconsin at an army base housing 8,000 refugees awaiting settlement.
Measles, also known as rubeola, is highly contagious and spreads through coughing, sneezing, and contact with droplets from the throat, nose, and mouth.
The CDC recommended halting intake of Afghan refugees in a precautionary move aimed at slowing potential spread. Does this suggest that rubeola may very well again pose a threat to the greater country at large?
Measles does still exist in the United States, with the CDC reporting approximately 1,200 cases in 2019. Thanks to advances in medicine, it no longer represents the same level of risk as it did in the early 1900s. Yet, without proper inoculations, rapid spread throughout the refugee population is possible. That could eventually begin to affect vulnerable or unvaccinated Americans.
Copyright 2021, DailyDig.com