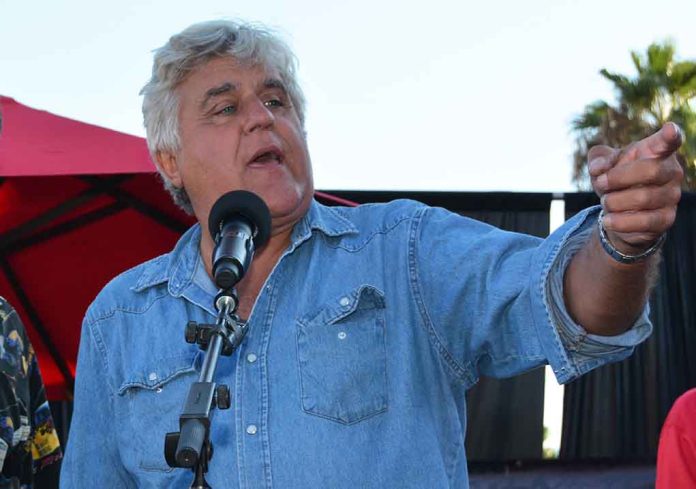 (DailyDig.com) – After yet another traumatic incident involving one of his cherished automobiles, Jay Leno is back on his schedule and performing on stage at the Comedy & Magic Club in Hermosa Beach, California. The former Tonight Show host has sustained another injury just months after his devastating face burn tragedy. In a bizarre motorbike accident last week, he suffered several fractures.
The topic came up when Leno, 72, was questioned regarding the previous fire incident, in which the comedic legend torched himself while replacing his car's gasoline line at his garage in Los Angeles.
Leno frequently makes light of his own health. For example, he likened himself to a celebrity roast comedian barely two weeks after receiving severe burns in the fire incident. He made light of the fact that there would be two performances that evening, one 'regular' and the other 'extra crispy'.
Regarding how the most recent accident occurred, he claimed that on January 17, while inspecting a 1940 Indian motorbike, he noticed the odor of gas seeping. "I turned down a side street and cut through a parking lot, and unbeknownst to me, some guy had a wire strung across the parking lot but with no flag hanging from it. So, you know, I didn't see it until it was too late. It just clotheslined me and, boom, knocked me off the bike," he said. He said that he fractured his collarbone, two ribs, and two kneecaps.
The previous two weeks, the comedian had postponed his weekly Sunday performance at the comedy club. Despite the fact that he had broken multiple bones, Leno didn't have a sling on when he returned.
Since taking over as host of The Tonight Show in 1992, Leno has performed at the club almost every Sunday, where he would test out his opening monologue ideas while using index cards.
After seven seasons of the series, Jay Leno's Garage, the show will not continue. This is despite the fact that Leno has scheduled appearances elsewhere until April.
Copyright 2023, DailyDig.com