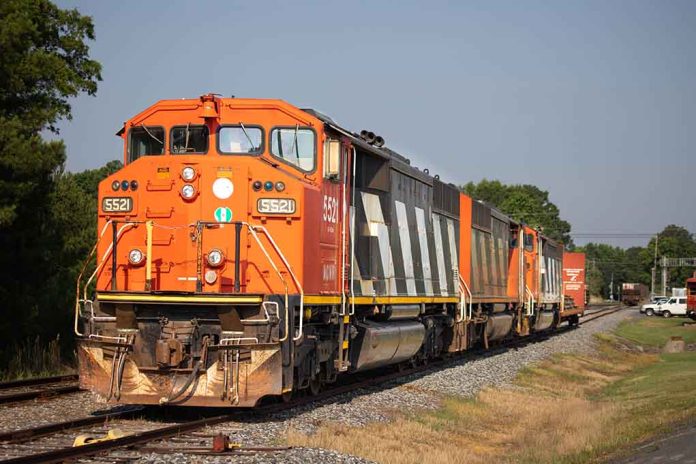 (DailyDig.com) – On March 9, Senator JD Vance (R-OH) urged Republicans to support his bipartisan railroad safety measure during the Environment and Public Works (EPW) discussion during the committee meeting in the US Senate.
He said they're the party of the hard-working people of this country. The law he is proposing would benefit their people. He asked his fellow senators if they serve a huge government-friendly industry sector or their constituents who voted for them to represent them in their government.
Vance, Senator Sherrod Brown (D-OH), and Senator Bob Casey (D-PA) spoke about the train incident on February 3 involving Norfolk Southern in the Ohio town of East Palestine. The derailment released dangerous substances into the water and air surrounding the town. Vance urged Republicans to approve the bipartisan railroad safety measure.
The Railway Safety Act of 2023 is a bill that would force carriers to create plans for emergencies, inform state authorities before hazardous material trains approach towns, and also mandate a two-person train crew at the minimum.
According to a preliminary NTSB study, overheating caused the disaster. The measure would require training for hazardous materials for all first responders. Also, it would mandate greater maintenance for wheel bearings to identify overheating.
Senators Brown and Casey urged CEO Alan Shaw of Norfolk Southern to endorse the measure. Vance then pivoted to his own party to express his worry that they had moved away from holding Norfolk Southern and the railroad sector responsible for safety.
Vance said that the train industry gets preferential subsidies and legal carveouts. They received a government bailout during a labor conflict three months prior to the disaster. They now allege in the House and Senate that their rational legislation violates their free market rights. They shouldn't demand special privileges from the government and then refuse public health and safety preventative measures.
Vance said that the measure provides "reasonable public safety enhancements." His remarks were directed at Republicans who appear to believe that rail sector public safety improvements violate the free market. He labeled the reasoning an absurdity.
Copyright 2023, DailyDig.com