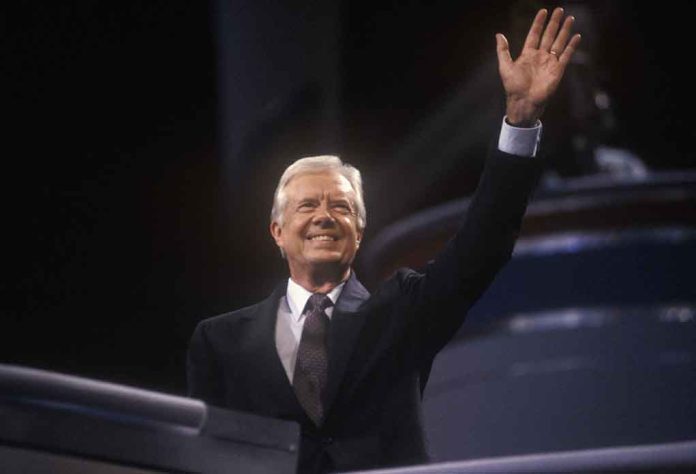 (DailyDig.com) – It was announced on February 18 that Jimmy Carter, the former US President, would start receiving home hospice care in Georgia. Carter opted to remain with his family at home for his care rather than undergo further medical intervention after a series of brief hospitalizations. No details of his previous hospitalizations were provided.
On Friday, Carter's grandson, Jason Carter, visited his grandparents and reported that "they are at peace" and that their house is filled with love. The Carters request that their privacy be respected at this time.
As a peanut farmer in Georgia and a United States Navy lieutenant, Carter went on to become a Democrat state senator of Georgia from the years 1963 to 1967. He was elected governor of GA between 1971 to 1975, and United States president beginning in 1977 to 1981.
Carter is highly regarded for his advocacy of human rights. His role as mediator in 1978 between the President of Egypt, Anwar Sadat, and the Prime Minister of Israel, Menachem Begin, is considered the legacy of his presidency.
After his four years as president, Carter and his wife Rosalynn established the Carter Center to promote international health and harmony. Throughout the years, the center has monitored elections abroad and helped reduce sickness in underdeveloped nations to further the cause of democracy and health abroad.
In 2002, he was awarded the Nobel Peace Prize for his tireless advocacy of international peace. He also spent a lot of time helping out at Habitat for Humanity.
Carter successfully completed treatment in 2015 for brain cancer, but he had a number of medical complications in 2019. He had to give up his long-standing position as a Sunday school teacher at his family church, Maranatha Baptist, due to health problems.
Jimmy Carter, who is now 98 years old, has outlived every other U.S. leader in history who has served as president. He has kept a quiet profile in the past years because of the epidemic, but he has maintained his lengthy advocacy for addressing threats to democracy across the globe.
Copyright 2023, DailyDig.com