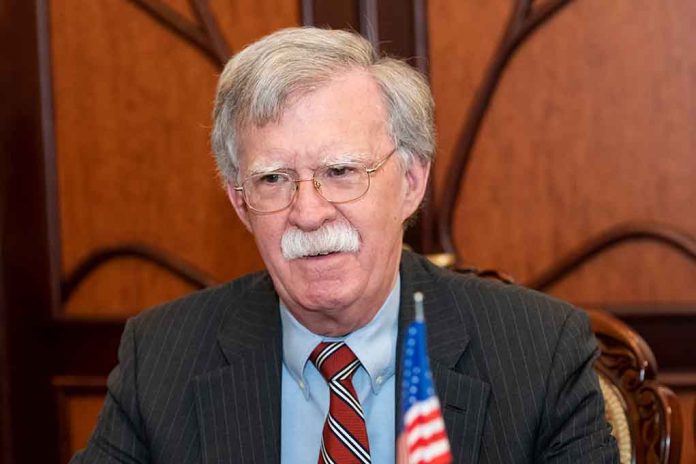 (DailyDig.com) – Assassination plots aren't too common in today's society due to the level of security government officials, both current and former, have. Yet, despite President Biden being in the middle of negotiations with Iran, the country is allegedly plotting to kill the national security advisor for former President Trump, John Bolton.
The Washington Examiner reported that at least two Iranians belonging to the Quds-Force, the Islamic Revolutionary Guard's covert squad, were involved in the planning of Bolton's assassination.
EXCLUSIVE: At least 2 Iranians belonging to the Islamic Revolutionary Guards' covert-action Quds Force have been plotting to assassinate former national security adviser @AmbJohnBolton, according to a @TheJusticeDept official.https://t.co/DmCN9h3gug

— Washington Examiner (@dcexaminer) March 7, 2022
The Washington Examiner details a Department of Justice (DOJ) official discussing evidence enough to indict the two Iranians. However, the source also noted the Biden administration was hesitant in publicly charging the men for fear of ruining its nuclear deal with Iran even though the official was doubtful the DOJ possessed sealed indictments of either individual.
The Examiner's report doesn't detail the plot in its entirety, citing national security concerns, but it does mention there was enough of a threat to prompt a full Secret Service detail to protect Bolton in the latter part of 2021 or early 2022.
Iran has made similar threats against other former Trump officials such as Mike Pompeo, the former Secretary of State. The question is whether or not Biden should continue to deal with countries and regimes that threaten to assassinate former American officials.
Should the administration really pursue a nuclear deal with Iran despite its leaders' obvious intentions?
Copyright 2022, DailyDig.com