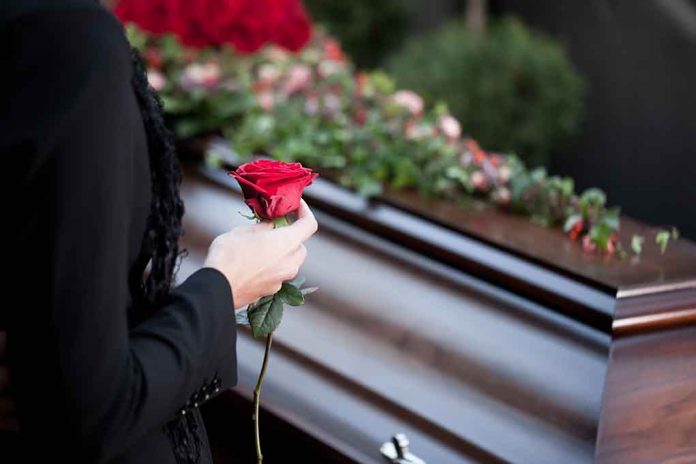 (DailyDig.com) – John Schneider, 62, of "The Dukes of Hazzard" fame, spoke out about the death of his wife, Alicia Allain, 53, on February 22. Alicia passed away peacefully at home with her family.
Schneider said that his wonderful love is now free of pain, describing her current state in her new body, where she now resides with Jesus. He posted a picture of the two of them holding hands, their wedding rings clearly visible.
He asked the public to give the grieving family some space. Schneider also urged his fans to express their affection through passionate embraces with their loved ones.
The official reason for her passing was not disclosed, although in a previous appearance on "Fox & Friends," Schneider had discussed his wife's battle with breast cancer.
Allain said that she had been diagnosed with "stage 4 HER2 negative cancer," and Schneider chimed in, that she was in year 3 of her shelf life of 5 years.
Allain decided to employ a holistic strategy to fight her disease. She detailed how she enrolled in a crash course in reading to determine her future course of action. She ultimately settled on the ketogenic diet, cannabidiol oil, and mineral grounding to combat her cancer. She began following a very strict routine.
Schneider posted a touching video of him and his late wife dancing together on Facebook. The actor said the clip was a lovely moment in their lives.
Tom Wopat, who co-starred with Schneider in "The Dukes of Hazzard," also posted a picture of the pair along with a touching message on Facebook in memory of Allain.
He said he had just learned that Alicia, John Schneider's wife, had died that day. He stated that he didn't need to know the specifics of her death to understand the suffering and grief that John was experiencing.
Not only did he pray for him, but he also sent the prayers of the whole "Dukes" country. Wopat further added that Alicia was a driving force in the life of her husband, John, and of his profession.
Copyright 2023, DailyDig.com