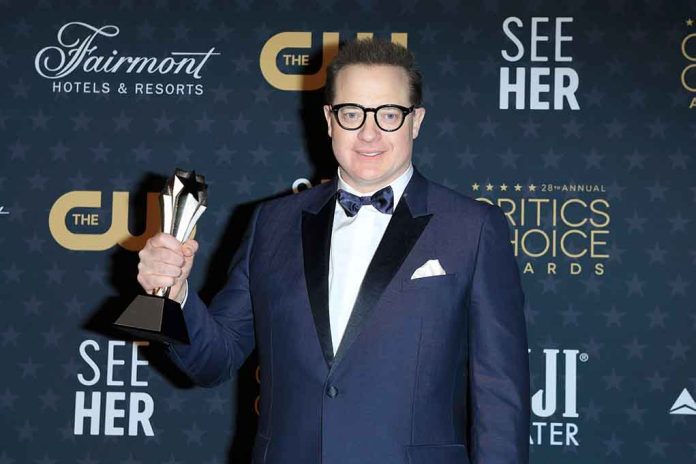 (DailyDig.com) – Brendan Fraser and Key Huy Quan have had significant career revivals in the last year, courtesy of their appearances in "The Whale" and "Everything, Everywhere, All At Once," respectively.
Fans of both actors will remember that they worked together in one of Fraser's earliest movies, "Encino Man." On Sunday, January 15, the two former co-stars got together to celebrate the 28th annual Critics Choice Awards.
Quan, 51, commented on meeting Fraser, 54, for the first time in nearly 32 years, when they both won best supporting actor and best actor awards.
He informed the media that it was wonderful to meet Fraser once more. When Fraser and Quan finally met after 30 years, Fraser gave him a great embrace and wrapped his arm around his shoulder. Both actors appeared as front-runners for awards season for their upcoming comeback films in 2022.
"He put his hand on my shoulder and he said this, he was still here. I will never forget those three words and it's actually right," Quan shared his reunion with Fraser with the media.
When Quan and Fraser made Encino Man, it was one of Quan's final performances as an actor before he reappeared in Everything Everywhere All at Once, Fraser's leading part as an unfrozen primitive human being dumped into the 1990s helped launch his acting career.
Quan acknowledged to reporters that he was really anxious as he came to the Critics' Choice Awards on Sunday, even after taking home another trophy at the 80th Golden Globe Awards on Tuesday.
He claimed that, as he thinks back on those trying years, his heart is still racing. On Tuesday, he said that he could not believe both awards were his. He claimed to feel really fortunate and appreciative.
On Sunday, Quan said as he won his prize, that his comeback narrative may have been completely different if it weren't for the critics. In his opinion, they not only assisted viewers in finding his short film but also in recalling who he was.
Copyright 2023, DailyDig.com