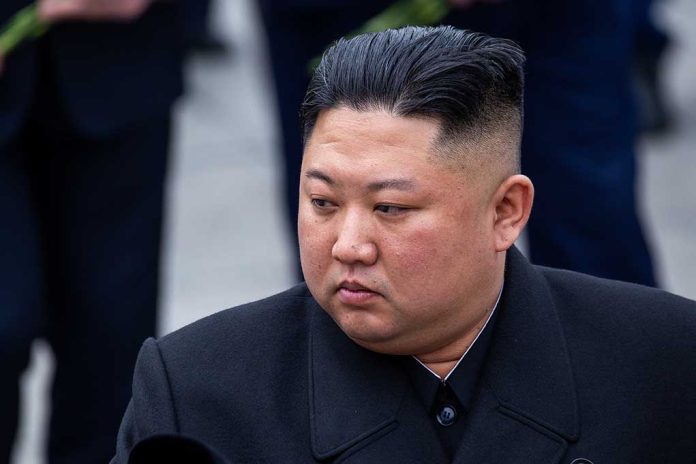 (DailyDig.com) – A common practice for many opponents is to team up against a common threat. In the case of China and North Korea, the common threat appears to be the United States, with the communist and socialist countries reportedly reaching an agreement. But what does it mean?
According to a translated version of a Rodong Sinmun report, Kim Jong Un, the leader of the Democratic People's Republic of Korea (DPRK), sent a message to Chinese President Xi Jinping. He detailed their strategic cooperation in dealing with the US military threat.
Kim Jong Un is emphasizing North Korea and China cooperating to fight the U.S. "military threat."

The DPRK leader reportedly sent a message to Xi Jinping to mark Sunday's closing ceremony of the Beijing Olympics.https://t.co/Vfcj8NGWd7

— NK NEWS (@nknewsorg) February 23, 2022
Kim's message allegedly stated that North Korea and China are strengthening their relations to push and defend socialism through the destruction of hostile US policies, US allies and their military threats. The DPRK leader reportedly expressed his willingness to reinforce the relationship between China and North Korea and to create a peaceful and developing world alongside Jinping. The report didn't contain details as to how they plan to counter the US military.
China supported UN sanctions to prohibit development-related military collaboration with the DPRK. In 2016, the UN passed Security Council Resolution 2270, banning North Korea from receiving or giving any kind of assistance to developing missiles, nuclear weapons and even small arms.
Despite the sanctions in place, China and North Korea can still trade strategies. According to satellite imagery, NK News believes China has been sending frequent shipments of food and other supplies to the sanctioned DPRK. Jong Un complained about the alleged cooperation between US and South Korean militaries, prompting him to start nuclear and long-range missile testing again.
It appears China is aiding North Korea in any way UN sanctions will allow it, enabling the communist regime to continue to defy US demands. Jong Un will continue to push legal boundaries as long as he can, or until the US ends its assumed cooperation with South Korea.
Copyright 2022, DailyDig.com