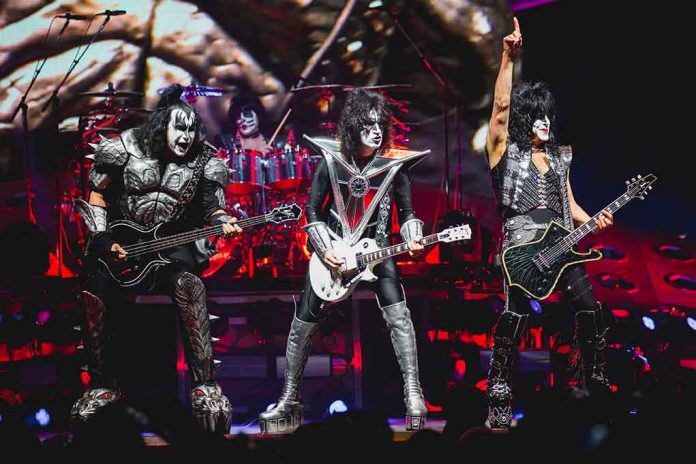 (DailyDig.com) – Wednesday, March 1, was the day when KISS announced they would be doing their last series of performances ever and that they would be going on tour.
The members of the band, Gene Simmons, Tommy Thayer, Paul Stanley, and Eric Singer, have revealed that their farewell performances will take place in New York City, the city where it all began.
The glam rock veterans made the revelation during an interview on "The Howard Stern Show," informing the host that the band would play its last two gigs at Madison Square Garden.
As part of its "End of the Road World Tour", KISS will perform 17 additional shows all across the United States and Canada before playing two consecutive nights at the illustrious New York City facility. These shows will take place in cities such as Los Angeles, Calgary, Seattle, Montreal, Calgary, and Toronto.
Paul Stanley said that there have been some individuals who have sort of giggled and said that this "End of the Road" tour has been ongoing for years. Indeed, the epidemic cost us a total of two and a half years. We would have been finished by now! As a result, this must be it.
Stern prompted Gene Simmons to say that it's pretty likely he'll be tearful when the band gets to its final gigs, and Simmons responded by saying that he almost certainly would be. He said he has a feeling that he will start bawling like a nine-year-old little girl who got her foot trodden on.
The band is scheduled to play a two-night performance at Madison Square Garden in New York City on December 1 and 2, which will bring the tour to a close. The band has said that this will be their last ever tour. "KISS was born on 23rd Street," they say.
It will be a joy and an honor to conclude our journey in Madison Square Garden. It is 50 years and 10 blocks away from where they began.
Copyright 2023, DailyDig.com