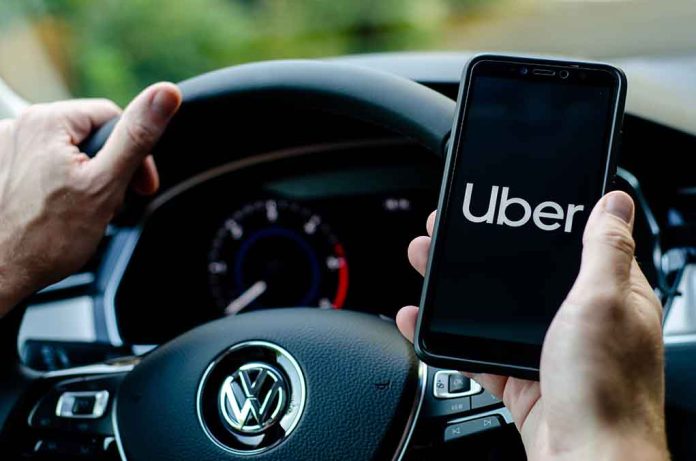 Leaked Uber Files Put Ride Share Giant In The Hot Seat
(DailyDig.com) – Uber recently had a whistleblower leak 124,000 interesting documents full of text messages, emails, and various papers. The revelation showed how the ride-share company disregarded the safety of drivers and intentionally broke the law. The "Uber Files" also exposed how the business lobbied world governments to achieve their own goals.
Uber secretly lobbied prominent politicians, leaked files show https://t.co/d5WxXrwgEH pic.twitter.com/OiKBp5Z2zN

— The Hill (@thehill) July 11, 2022
The Guardian first reported on the leak, which contained information from 2013 to 2017. At the time, Uber was attempting to expand globally, but many countries had strict taxi license regulations preventing the company from growing. So, the ride-share business decided to try and influence prominent figures like President Joe Biden, German Chancellor Olaf Scholz, and French President Emmanuel Macron, all of which held different positions during that period. In fact, records show that Uber met with officials from 18 countries and institutions in the European Union over 100 times.
Travis Kalanick, founder and former CEO of the popular car service, met with then-Vice President Joe Biden prior to a speech in which he praised Uber and other ride-sharing companies. Mark MacGann, the centerpiece of the business' expansion and source of the leak, spoke with Macron on several occasions when he was France's economy minister. In 2014 he was instrumental in lifting an Uber-service suspension after speaking with MacGann.
Kalanick also met with then-Netherland Prime Minister Mark Rutte, who claimed the CEO was too aggressive, advising him to alter how the public viewed his company. The information even showed that key executives met with George Osborne, who was the Chancellor of Britain at the time, then-Israeli Prime Minister Benjamin Netanyahu, and Enda Kenny, who served as the Irish Prime Minister.
The revelation sparked quite a bit of controversy. Many are disturbed over the lobbying, sometimes in secret, but more are worried about other issues like intentionally putting drivers at risk. Considering Uber's worldwide presence and blatant disregard for rules, could this be a concern for those who use the service?
Copyright 2022, DailyDig.com