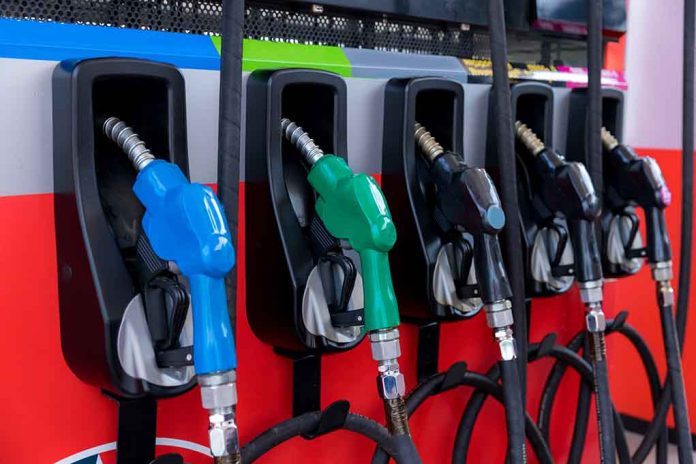 (DailyDig.com) – There's no shame in admitting many Americans are facing a financial crisis thanks to continued inflation. It seems that everything has gone up in price, especially food and fuel. As Americans struggle to afford gas at record high prices, some lawmakers are trying to alleviate some of the pain they're dealing with at the pump.
In California, lawmakers are attempting to pass legislation to help their constituents pay for gas. Both sides of the political aisle have different ideas, as Democrats propose a gas tax rebate of $400 and Republicans propose suspending the gas tax altogether.
California lawmakers propose $400 gas rebate to help drivers with soaring gasoline prices https://t.co/sHkYvAeVdu pic.twitter.com/qiHdzetbYu

— ABC7 News (@abc7newsbayarea) March 18, 2022
According to Assemblymember Cottie Petrie-Norris (D-Irvine), the $400 rebate number comes from what Californians typically spend on gas taxes per year; the state has the highest excise tax on fuel in the nation at 51 cents per gallon. Petrie-Norris also mentioned the state government should focus on sending these checks out as soon as possible.
There are still negotiations to complete before lawmakers can pass the bill. For example, in its current state, the legislation would give every Californian state taxpayer the rebate, including even the wealthiest people of Silicon Valley.
Millionaires and billionaires probably don't need any assistance paying for gas to get to work, and they probably also have no problems paying for food and housing costs, so it's likely there will be some sort of income cut-off. As of right now, single Californians are set to receive $400, while married residents would receive $800, regardless of their incomes.
Copyright 2022, DailyDig.com