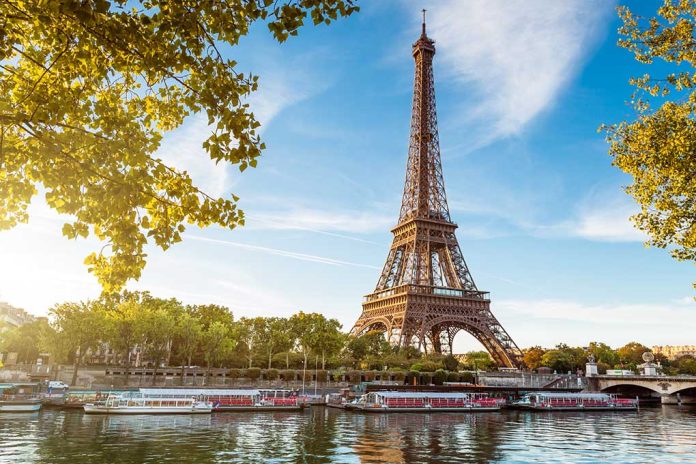 (DailyDig.com) – On August 17, police apprehended a thrill seeker who had base jumped from the iconic Eiffel Tower, the most recent in a string of incidents involving the famous monument.
The expert climber started up the tower prior to its opening, and it took the guards fewer than one minute to notice his audacious move. Despite the best efforts of the tower's response brigade, they were unable to stop him. The 24-year-old man decided to plunge from the tower's third floor, around 920 feet above the ground, after climbing almost to the top of the attraction, which is located 1,000 feet above Paris.
The base jumper attempted to evade capture, but the police found and arrested him without delay. Nearly two hours prior to the leap, authorities were notified of the impending danger.
As soon as Sete, the firm responsible for maintaining the iconic Paris landmark, saw the base jumper, they contacted the authorities. Minutes later, they supposedly had the guy pegged. As a consequence of the mishap, the Eiffel Tower's public opening had to be postponed slightly.
After landing unharmed on the top of the adjacent stadium in the Avenue de Suffren early that morning, a Sete official said he was detained for trespassing and jeopardizing the lives of others. Workers in the tower's immediate vicinity might have been endangered by this reckless behavior.
This wasn't the only crazy thing that happened at the iconic French landmark that week. After a night of heavy drinking on August 14, two Americans were found asleep inside the Tower, the latest in a string of security problems.
The two men were discovered when security was making its rounds prior to the 9 a.m. public opening, and Paris prosecutors claimed they looked to have become trapped due to their intoxication.
On the weekend of August 12, a false bomb threat prompted the evacuation of three levels of the Eiffel Tower and the courtyard. Only after a few hours did it reopen to the public again.
Copyright 2023, DailyDig.com