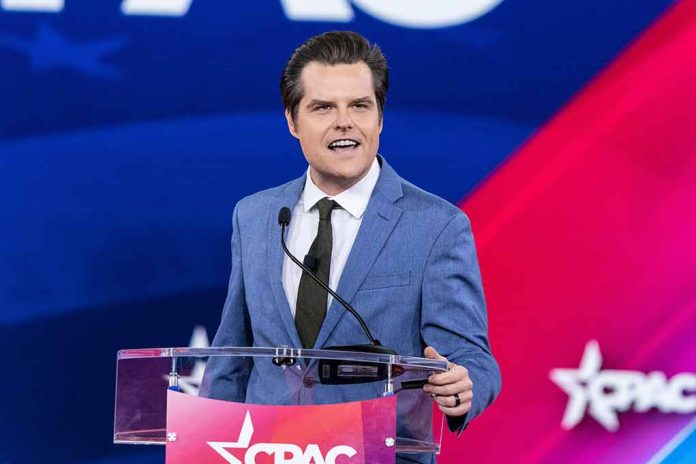 (DailyDig.com) – Bipartisan legislation was presented by New York Representative Alexandria Ocasio-Cortez, a Democrat, and Florida Representative Matt Gaetz, a Republican, to limit stock ownership and trading by members of Congress and the members' families.
According to Gaetz, our representatives in Washington, instead of worrying about the future of their fellow citizens, they are too busy day trading. The swamp must not be allowed to put financial gains above the national security of our nation. Congress can never win back the confidence of American citizens as long as questions regarding insider trading hover over the process of legislating. Our duty in Congress is not to make stock market predictions but to serve the people.
On May 2, Ocasio-Cortez, Gaetz, a moderate Republican, Representative Brian Fitzpatrick from Pennsylvania, and a progressive Democrat, Representative Raja Krishnamoorthi from Illinois, introduced the bill. The 'Bipartisan Restoring Faith in Government Act' would make it illegal for Congress members, their spouses, and their family members to own financial interest investments.
According to Fitzpatrick, the reality that participants of the "Bipartisan Problem Solvers Caucus," the "Freedom Caucus," and the "Progressive Caucus," who together represent the whole range of American politics, can find consensus on such important matters should serve as a strong signal to the American people.
In the event that this bill is passed, people will have 90 days to either put their assets into a blind trust or sell them so as to avoid any possible issues of conflict with their jobs as opposed to personal wealth. If the ethics watchdog office in Congress requests it, a lawmaker must provide documentation showing they followed the rules. By making it illegal for Congress members to enrich themselves off of confidential information, this measure hopes to restore the public's faith in their government.
According to Ocasio-Cortez, people's faith in the government suffers when Congress has access to the stock market. Members who have access to secret data should not use it to make personal financial decisions. It's just that easy.
Copyright 2023, DailyDig.com