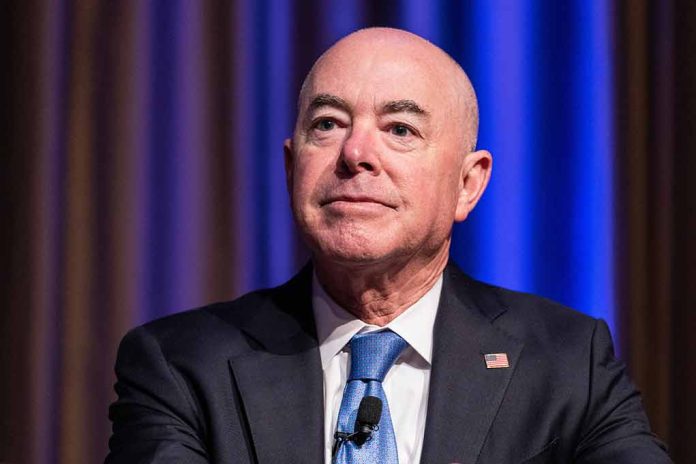 (DailyDig.com) – At a hearing in McAllen, Texas, in March 2023, Chief of Border Patrol Raul Ortiz testified that five out of nine border areas in the southwest were seeing a greater quantity of movement than they had seen before. Representative Michael Guest (R-MS) took this to suggest that the existing security in these areas was inadequate.
During a budget hearing on April 19 in the House, Representative August Pfluger (R-TX) questioned if Alejandro Mayorkas, DHS Secretary, disagreed with Ortiz's assessment that the border between the US and Mexico is not secure.
In response, Mayorkas said that he and Ortiz had different perspectives on the border security crisis while stating that he politely disagreed. Mayorkas has asserted several times that the border is safe.
According to Pfluger, none of the House Democrats showed up to the hearing in March. He revealed to Mayorkas that in the previous three years, not one border patrol officer he has spoken with has shown confidence in his ability to keep the nation safe or in his leadership skills.
Mayorkas vehemently defended his track record, saying that the southern border is very safe. He said his staff is working around the clock to meet the demands of bolstering border security.
Members of the Tambunga family, who lost loved ones when a car driven by an illegal immigrant smuggler hit and murdered Emilia and Maria in a border town in Texas, were present at the hearing on Wednesday. Pfluger requested an apology from Mayorkas, and the secretary replied with his condolences for their loss. And, he said, for the lives of all those who have been taken by criminal acts.
Pfluger has said that he is excited to meet with the Tambunga family and work together to find viable answers. All of the House Democrats, he says, should get together with them and hear their story. The remedies to the problems that are arising in Texas and elsewhere as a result of these policies are there in front of the lawmakers. He really wants all of them to make the effort.
Copyright 2023, DailyDig.com