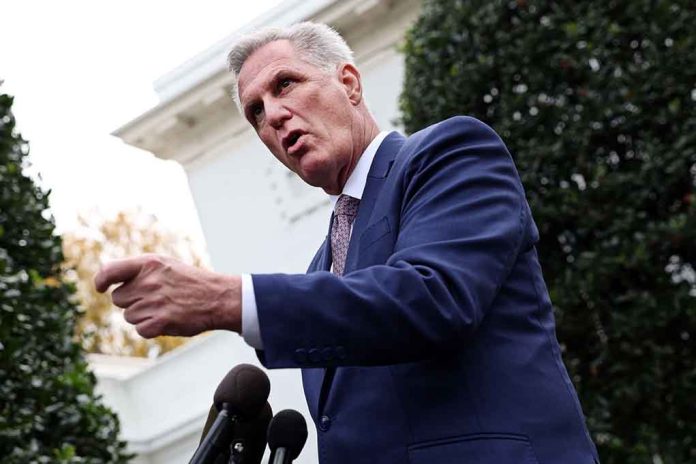 (DailyDig.com) – House Speaker Kevin McCarthy stated on Thursday, January 12, that he is exploring releasing all 14,000 hours of surveillance video that were recorded during the disturbance that occurred in the Capitol on January 6, 2021.
McCarthy made his remarks in reaction to a statement made by Representative Matt Gaetz, who said that Republicans want to disclose 14,000 hours of earlier suppressed tapes from that day. He gave this information to Charlie Kirk, who is the host of the Salem radio show, and said that he was told by Kevin McCarthy that he is considering providing the material to the American people. He believes that doing so would provide a more accurate picture of what happened on that day, as opposed to the selective instances that the January 6th Committee intended to utilize to inflame the situation and further polarize the nation.
Gaetz also stated that he feels that part of the arrangement made with McCarthy to back his quest for the Speakership was a promise to get the facts out to the American people.
McCarthy told reporters, "I think the public should see what happened on that day. I watched what Nancy Pelosi did, where she politicized it. Where, for the first time in the history as a speaker, not allowing the minority to appoint to a committee, to pick and choose. We watched the politicization of this. I think the American public should actually see all what happened instead of a report that's written for a political basis."
He stated that he wants to think carefully about the release carefully, but he is actually contemplating it.
Following McCarthy's remarks, Gaetz posted on Twitter to congratulate him for keeping his pledge to Republican holdouts:
https://twitter.com/mattgaetz/status/1613591168708743181?ref_src=twsrc%5Etfw%7Ctwcamp%5Etweetembed%7Ctwterm%5E1613591168708743181%7Ctwgr%5Ef03f02e2611bfc25762fe3d7b020550a0c5a6ff3%7Ctwcon%5Es1_&ref_url=https%3A%2F%2Ftownhall.com%2Ftipsheet%2Fleahbarkoukis%2F2023%2F01%2F13%2Fmccarthy-considers-releasing-all-j6-footage-n2618253
Rep. Paul Gosar, an Arizona Republican, explained that the security film must be released not only for the American people to know what happened that day, but also for the January 6 prisoners' legal defense. The accused are currently not provided with the necessary background to defend themselves, and the tapes will allow them to do so.
Copyright 2023, DailyDig.com