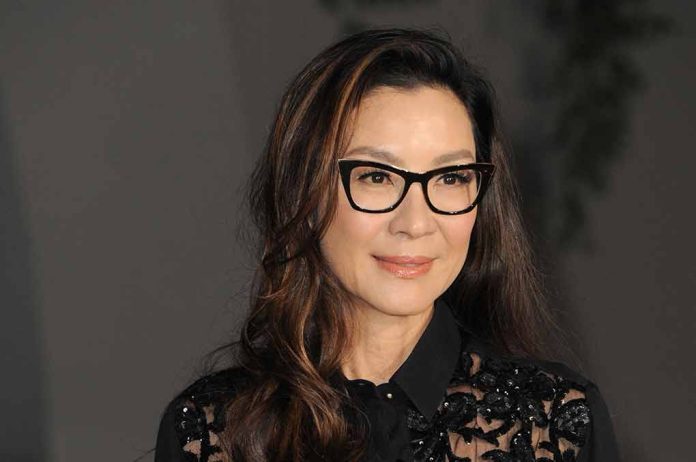 (DailyDig.com) – The actress, Michelle Yeoh, from "Everything, Everywhere, All at Once," made history by being the first Asian woman to win an Oscar for best actress.
The actress paid tribute to a dear loved one during her speech of acceptance for the award in 2023. She felt compelled to dedicate the work to her mother. Without all the mothers throughout the globe, not one of them would be sitting here that night. She said that she plans to take the Oscar award to her mother, who is 84 years old. She is now viewing it at that moment, in Malaysia, with her loved ones. She promised to bring this award home to her since she loved her so much.
A video of Yeoh's mother at her Oscars celebration quickly went viral after she won. While everyone shouted and was delighted as Halle Berry announced Yeoh's name, the actress's mother was spotted wiping away tears of joy.
Melissa Goh, a CNA reporter, also posted a touching video of Yeoh showing off her trophy and blowing kisses to her mother through FaceTime shortly after her triumph.
A filial daughter , Michelle checked in on her mother straight after she became the first Asian to win the best actress award in the Academy's 95 year history . Bravo ! 🎉 https://t.co/Ghvs4LYW94 pic.twitter.com/BzqTIJ5cuW

— Melissa Goh (@MelGohCNA) March 13, 2023
Michelle Yeoh gave her Oscar to the person she had dedicated it to almost a month after the event.
The actress, who was born in Malaysia, posted a touching picture of her mom clutching the Oscar on Instagram on April 11. She wrote that she wouldn't be as successful as she is without the unconditional love and encouragement of her parents. That's how much she loves them. The sculpture at her father's burial site in Malaysia was the subject of the second image in her slideshow post.
Yeoh made history last month when she won the Oscar for Best Actress, becoming the first Asian woman to do so. A24's "Everything, Everywhere, All at Once," in which she played the role of Evelyn Wang, won a whopping seven Oscars.
Copyright 2023, DailyDig.com