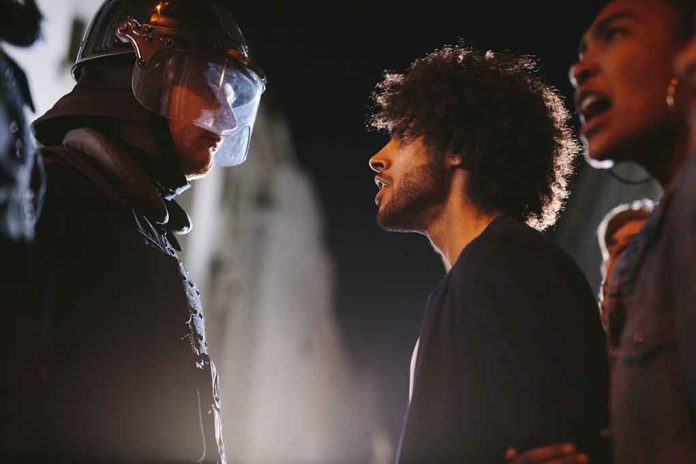 (DailyDig.com) – On Sunday night, January 29, more than 50 migrants protested outside the Watson Hotel in Manhattan as the authorities attempted to transport male adult migrants to a new refuge, South Bronx Mutual Aid, near the Brooklyn Cruise Terminal to make room for migrant families. City authorities said the new facility can house 1,000 single adult males and offers the same amenities as the hotel.
The shelter was visited over the weekend by many migrants, who then left to sleep outside Sunday night after complaining that it lacked heat, privacy, and blankets. According to an activist, the refugees believe the facility is unlivable. The migrants then raised a banner requesting the cancellation of rent and permanent shelter.
Venezuelan Issac Castellano felt deceived when he was offered a more stable location to reside. He claimed they are seeking a better life. They're not dogs.
Around 10 p.m. on Sunday, upwards of a dozen police officers arrived at the hotel to manage crowds, although fewer stayed until midnight. South Bronx Mutual Aid provided food, drink, and interpretation services.
"More than 42,000 asylum seekers have arrived in New York City since last spring and we continue to surpass our moral obligations as we provide asylum seekers with shelter, food, health care, education, and a host of other services. The facilities … will provide the same services as every other humanitarian relief center in the city," Fabien Levy, spokesman for Mayor Eric Adams, said.
Levy also said they need state and federal funding.
Mayor Adams visited El Paso, Texas, this month to draw attention to border issues. When there, he saw how the conditions in that city affects other cities like Chicago, Houston, Washington, and NYC. He said that cities shouldn't shoulder national issues.
Adams said he was informed there is someone overseeing the operation and questioned White House officials about why he hadn't been provided the identity.
https://twitter.com/NYCMayor/status/1620221801757392896?ref_src=twsrc%5Etfw%7Ctwcamp%5Etweetembed%7Ctwterm%5E1620221801757392896%7Ctwgr%5E9239eb055c2fdbdb5cc3bc4b5b8a052d385bbac2%7Ctwcon%5Es1_&ref_url=https%3A%2F%2Fabc7ny.com%2Fnyc-migrants-watson-hotel-protest%2F12753538%2F
Adams' shelter walkthrough video was shared by the mayor's office to calm worries. The city claims the facility provides hot showers, nutritious meals three times a day, and free MTA buses and ferries.
Copyright 2023, DailyDig.com