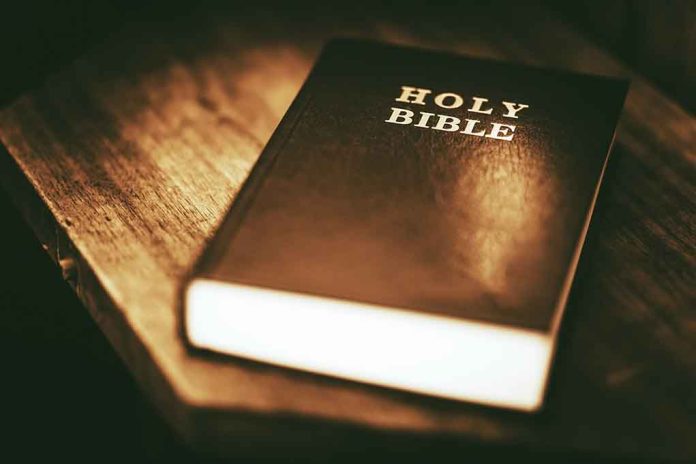 (DailyDig.com) – On the June 13 edition of "Jeopardy!," Suresh Krishnan, the five-day winner, defended his $53,999 total wins against Laura Blyler Scanland, a charity fundraiser, and Joe Siebert, a doctoral student. As the game progressed, though, spectators picked up on a number of triple stumps, including one using the Lord's Prayer.
As the game started, presenter Mayim Bialik began reading the clue, which was taken from the Lord's Prayer found in Matthew 6:9, with the blank being "____ is thy name." None of the three competitors had buzzed in when the camera panned to them.
The resulting Twitter storm was like something out of the Bible. Many of their supporters were angry when they could not answer a seemingly simple question regarding the Lord's Prayer.
Angry tweets from fans started pouring in after the religious gaffe was made, with one user even claiming ignorance of the Lord's Prayer's first line. Fans said it was embarrassing that they didn't realize the correct response was 'Hallowed.'
Someone else made fun of them, saying they were like heathens since they didn't know the Lord's Prayer.
No one buzzed in to collect the $200 prize for correctly answering the Lord's Prayer question; therefore, prompting another online critic to say it was a portent of the end of the world if nobody did.
The term 'hallowed' is used consistently throughout all Christian traditions and Bible translations, even though some of the other words in this prayer may vary.
Two of the three competitors got the correct answer to the episode's Final Jeopardy question about actors.
Suresh Krishnan won $96,595 for the 6th episode in a row. On his second appearance, he and the other participants had been criticized by viewers for failing to ring in for what they considered to be the show's majority of questions.
After the show aired, one viewer tweeted that they had to force themselves to watch the whole episode of "Jeopardy!" This episode has to rank among the top airings for the number of questions it left unanswered.
Copyright 2023, DailyDig.com