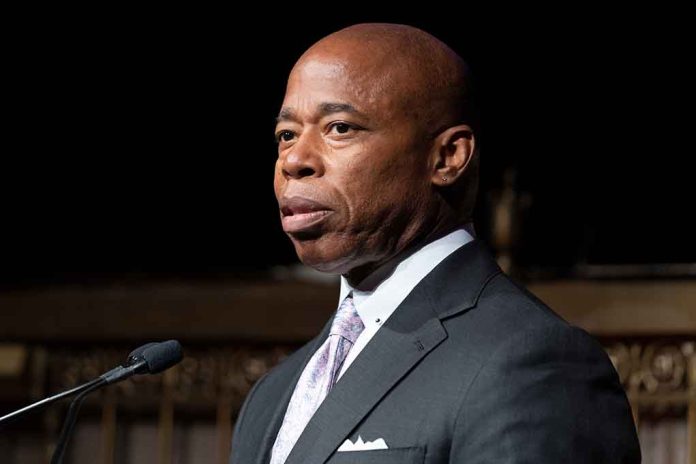 (DailyDig.com) – On Sunday, Jan. 15, New York City's Democrat mayor, Eric Adams, visited El Paso, Mexico. He proclaimed that busloads of migrants could not enter America's most populated city.
This was the first time that a NYC mayor visited the southern border to discuss immigration. At a Sunday press conference in the border city, Adams denied that illegal migrants can find homes and work in New York City. The NYC mayor has already criticized Gov. Greg Abbott (Republican, Texas), El Paso Mayor Oscar Leeser (Democrat), and Gov. Jared Polis (Democrat, Colorado) for transporting illegal migrants to New York City.
"We have to give people accurate information and that is what some of the centers are doing here. They are truly explaining to people that this is what's happening in New York right now. And, New York, you go there, you're going to be living in congregate settings, there is no more room in New York. That should be coordinated by our national government, not only done locally here by those NGOs, but it should be done by our national government. That is not happening," Adams said Sunday.
According to the New York Daily News, Adams' illegal immigrant shelters are full.
El Paso has garnered national focus recently when hundreds of migrants illegally entered the city and slept on local roads. Joe Biden and a bipartisan Senate group visited the area on Jan. 8 and 9 to examine the problem.
In the 2022 fiscal year, border patrol officers made more than 2.2 million arrests along the U.S.-Mexico border.
In recent months, huge numbers of illegal immigrants have been brought to Democrat-run sanctuary cities including New York, Washington, Chicago, Houston, and Los Angeles, straining those areas as they did border towns for years and worsening the housing and homelessness crises.
New York City accepted 3,100 illegal immigrants in the previous week and a-half. NYC wants genuine action from national leaders as there are more than 26,000 illegal migrants still in the city in need of care.
Copyright 2023, DailyDig.com