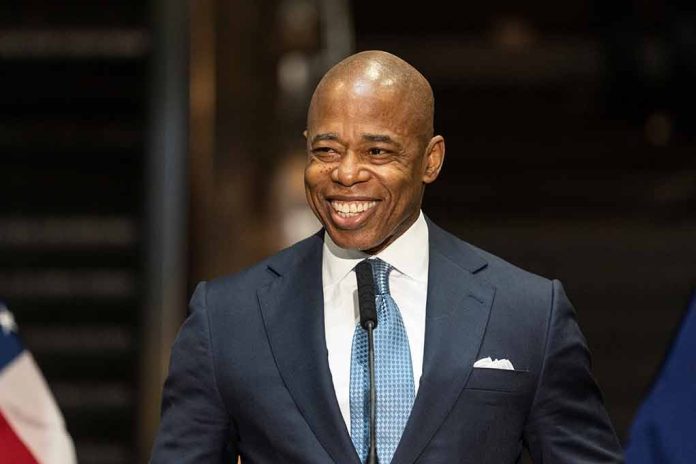 (DailyDig.com) – On April 11, NYC Mayor Eric Adams, a Democrat, presented a monitoring gadget and two law enforcement robots they will lease and buy to keep residents safe.
NYC crime dropped 5.6% from February 2022 to February 2023. Meanwhile, grand theft auto and criminal assault increased.
The technologically advanced safety equipment is planned for leasing and purchasing a week after Adams instructed agencies to cut their expenditures by 4% for the fiscal year starting July 1. Digidog, StarChase, and K5 are innovations that Adams said are the first of several rollouts.
Jeffrey Maddrey, Chief of Patrol, says the K5 automated security robot utilizes intelligent technology to notify first responders of incidents. Police have utilized it at malls and colleges. One will be leased by the NYPD and deployed with a human companion at the subway station in Times Square in mid-summer for a six-month test program.
The police have given a Boston Dynamics Spot robot the affectionate moniker "Digidog". The canine-shaped robot will help the NYPD investigate and monitor dangerous areas and circumstances by first entering the area where the police are present and then assessing the scenario. Maddrey thinks this will reduce fatalities among civilians and law enforcement. Two of these robots, which may be operated remotely, will be purchased by the NYPD for $750,000 and assigned to the NYPD's Technical Assistance & Response Unit.
StarChase is a GPS-enabled projectile launcher that may be placed on a vehicle to keep tabs on it as it's moving. The experimental program will last for 90 days and is intended to help police avoid risky pursuits.
New York State's chapter of the American Civil Liberties Union, NYCLU, said spending massive sums of money on NYPD toys is not a genuine solution to concerns about public safety. Instead of police monitoring systems, they should invest in employment, schools, and housing.
After widespread criticism of police brutality, the NYPD stopped using Digidog about two years ago.
Copyright 2023, DailyDig.com