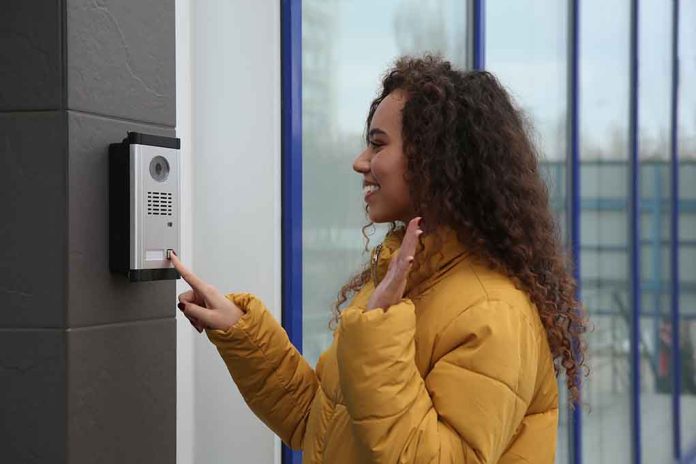 (DailyDig.com) – Federal prosecutors charged two individuals with unlawfully accessing Ring home surveillance cameras to live broadcast police responses to phony emergency calls.
Twenty-year-old Thomas Andrew McCarty of North Carolina faces one charge of conspiracy to knowingly enter the Ring systems without authority. Twenty-one-year-old Kya Christian Nelson of Wisconsin faces two charges of aggravated theft of identity and two charges of malicious computer access.
Swatting is when someone lies to authorities to bring police, especially SWAT teams, to someone's home in order to live-stream the chaos.
From Nov. 7-13, 2020, the couple reportedly accessed home security cameras nationwide. Authorities stated they hacked the victim's email accounts to gain access to Ring devices.
Swatting is a severe offense according to Ring. In this situation, criminals utilized stolen client email identities from non-Ring services to acquire other records. The company immediately helped those clients safeguard their Ring accounts.
Ring stated that they take client's security seriously and aided FBI attempts to find the culprits. There is a two-step authentication that is essential; they run frequent checks for Ring credentials exposed in non-Ring attacks, and consistently invest in updated safeguards to fortify their systems. "We are committed to continuing to protect our customers and vigorously going after those who seek to harm them."
Nelson and McCarty reportedly submitted bogus incident reports to local police departments and first responders where the victims lived to send authorities to their houses. Authorities said they live-streamed security camera sound and footage on social media throughout the police reaction. The victims were also being taunted by the pair using the Ring systems.
Nelson and another individual called the West Covina, California, authorities from a victim's house on Nov. 8. The DOJ claimed they faked being a youngster reporting her parents discharging guns at home while they were drinking. Nelson then ridiculed responding West Covina police.
Prosecutors reported similar cases in Huntsville, Alabama; Oxnard, California; Redding, California; North Port, Florida; Decatur, Georgia; Darien, Illinois; Flat Rock, Michigan; Billings, Montana; Katy, Texas; Rosenberg, Texas; and Chesapeake, Virginia.
McCarty faces a five-year sentence while Nelson faces 12 years.
Copyright 2022, DailyDig.com