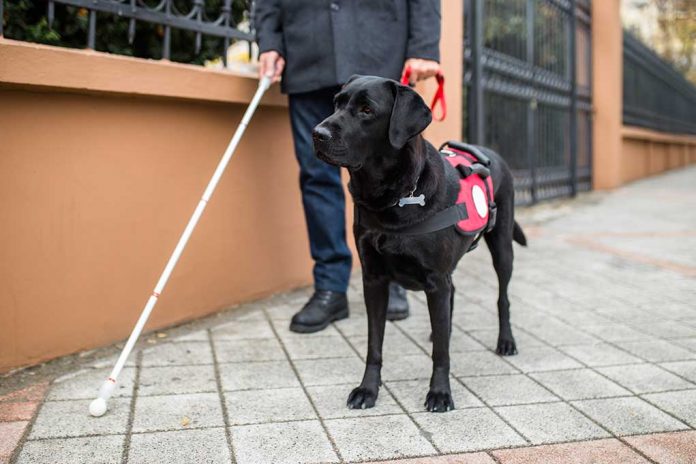 (DailyDig.com) – In the US, a veteran takes their own life every 65 minutes. Those tragic statistics add up to around 22 deaths per day. Now, a new act seeks to empower the US Department of Veteran Affairs (VA) to better help veterans in a big way.
On August 25, President Joe Biden signed the Puppies Assisting Wounded Servicemembers for Veterans Therapy (PAWS) Act. The US House of Representatives first passed the bill in March; the US Senate unanimously voted in favor of it just this month.
Rory Diamond, CEO of K9s for Warriors, called the development a breakthrough after what he says was a five year battle with the federal government.
President Biden signs PAWS Act, allowing VA to fund the training of service dogs for veterans https://t.co/W05nNYEcFj

— 11Alive News (@11AliveNews) August 26, 2021
The new legislation grants the Secretary of the VA the right to create a service dog training program. Those who work with the pups will also receive training competence lessons in an effort to ensure animals are reliable after they graduate.
The program's ultimate goal is to see dogs paired up with veterans who struggle with mental health, regardless of the reason. They hope this will reduce suicides and encourage better quality of life, especially for people with post traumatic stress disorder (PTSD).
The PAWS Act marks the first time the VA has ever paid for veterans with PTSD to obtain service dogs. Diamond believes it will save lives. The $10 million program will take effect on January 1, 2022, lasting for at least five years.
Copyright 2021, DailyDig.com