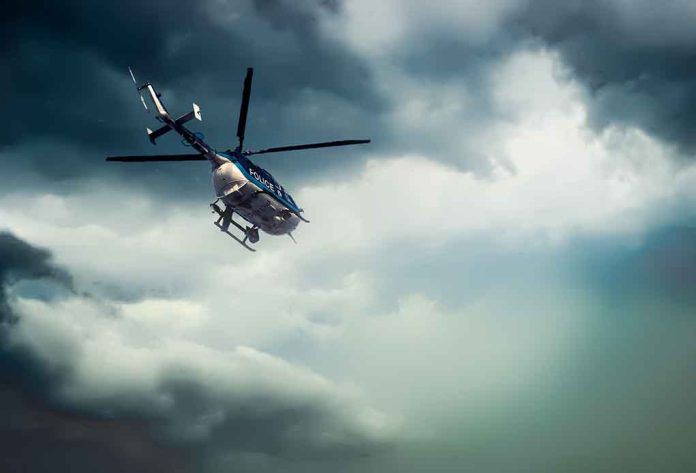 (DailyDig.com) – On March 26, at around 2:27 in the morning, police in Baton Rouge were pursuing a Ford Mustang. The driver, subsequently named as 23-year-old Deandre Dwayne Bessye, proceeded to elude the police in Baton Rouge while traveling close to 135 mph.
It was reported that the helicopter, a Robinson R-44, took off at around 2:26 in the morning. Twelve minutes later, the helicopter went down, taking the lives of both of the police officers aboard. During the time of the flight, they were in the process of chasing down the car that had eluded the other authorities from Baton Rouge who were pursuing it. Only when the pilots didn't come home from work around the expected time, the helicopter crash was located about 11:30 that morning. Both the flight and the crash happened during times when the control tower at the airport in Baton Rouge was unattended.
The Baton Rouge PD stated that the officers belonged to the "Air Support Unit" of their department. Cpl. Scotty Canezaro, who was 38 years old, and Sgt. David Poirrier, who was 47 years old, both perished in the crash on Sunday morning. Canezaro and Poirrier had been with the department for 16 and 17 years, respectively.
Sharon Weston Broome, the Mayor-President of Baton Rouge, has expressed her profound sympathies to the loved ones and coworkers of the BRPD police officers who sadly passed away in Sunday's helicopter accident. She encouraged the community to remember the officers' loved ones in their prayers, and she offered her deepest appreciation to the individuals who responded and have worked so diligently to assist the city at this sad time.
According to the Police Department of Baton Rouge, an investigation into the accident is being conducted by numerous agencies of law enforcement and other agencies that monitor aviation and control airspace movement.
Copyright 2023, DailyDig.com