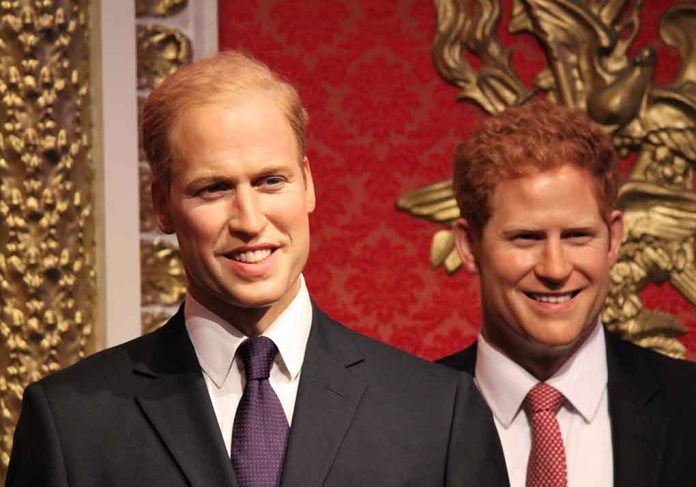 (DailyDig.com) – Former British royal Harry Markle has done himself little favors in the circulated excerpts from his upcoming memoir, ranging from unfortunate stories about his frostbitten manliness to his wife Meghan's comments about sister-in-law Kate's hormonal changes.
According to a royal reporter, Harry was furious that William wasn't hospitable enough to his new bride, Meghan Markle, which sparked the well-known feud.
Harry talks of a confrontation with his brother William in 2019 when William challenged Harry about Meghan's tough, nasty, and abrasive conduct in one of his numerous gripes. After the argument heated up, Harry writes that William:
"…called me another name, then came at me. It all happened so fast. So very fast. He grabbed me by the collar, ripping my necklace, and he knocked me to the floor. I landed on the dog's bowl, which cracked under my back, the pieces cutting into me. I lay there for a moment, dazed, then got to my feet and told him to get out."
William pushed Harry to fight back, referencing conflicts they had as youngsters. Harry explained that he declined. According to Harry, William departed, then returned with sorrow and apologized.
Harry must have believed that including that claim in his memoir reflected highly on him. But, based on the excerpt's brief context, if the brothers had come to blows then, they could have perhaps prevented the rest of us from seeing their family squabbles play out openly for years. William's fighting would have been a better and more effective way to solve the family problem than Harry's method of isolating himself from his family members and venting about them in gossip magazines.
What Harry should have discovered from those early squabbles is how to resolve a disagreement and how to choose disputes properly in the first place. Is the remark you're upset about worth a painful jaw? If not, it's not worth it to sever family ties by airing your grievances in any publication that will listen.
Copyright 2023, DailyDig.com