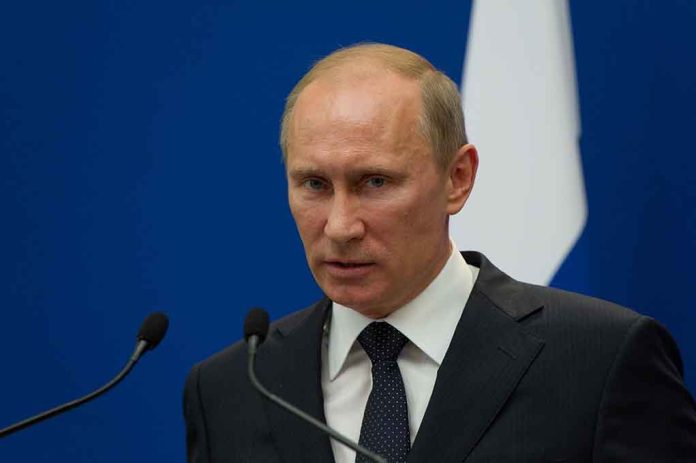 Putin Makes A THREAT After America Sides With Ukraine
(DailyDig.com) – The war in Ukraine has surpassed its 100th day with no sign of ending anytime soon. The country's Western allies have been doing everything they can to help in its fight for sovereignty. The most recent move by the United States and the United Kingdom has included sending advanced missile systems to Ukraine to better equip its soldiers against the Kremlin's army and gain some negotiation leverage. Russian President Vladimir Putin hasn't been fond of the aid his adversary is receiving and has issued dire warnings to countries that help.
The war in Ukraine is poised to intensify further after Vladimir Putin warned on Sunday that Moscow will hit back hard if Ukraine begins using advanced long-range missiles provided by the West. @cainburdeau https://t.co/kWJWX97bre

— Courthouse News (@CourthouseNews) June 6, 2022
During an interview with Russia-1 TV, Putin asserted his country has plenty of destructive power and would use it against the new shipments incoming from the US and the UK should Ukraine utilize them. The Russian President also mentioned the only reason for the weapon shipments is to extend the war, making it take longer to come to an end.
There haven't been many efforts to find a diplomatic end to the fighting as of yet, and it's likely the war will only intensify from here. The Kremlin has reportedly bolstered its offensive on Ukraine's Eastern Front, but enemy forces and sympathizers are finding difficulty advancing into Ukraine.
The missile systems the US is sending, known as high mobility artillery rocket systems, are part of a $700 million arms package for the struggling country. The missiles, which are satellite-guided, can strike targets up to 48 miles away. Currently, Ukraine doesn't have weaponry with those capabilities. But will it be enough to hold off Russia, and will Putin retaliate?
Copyright 2022, DailyDig.com