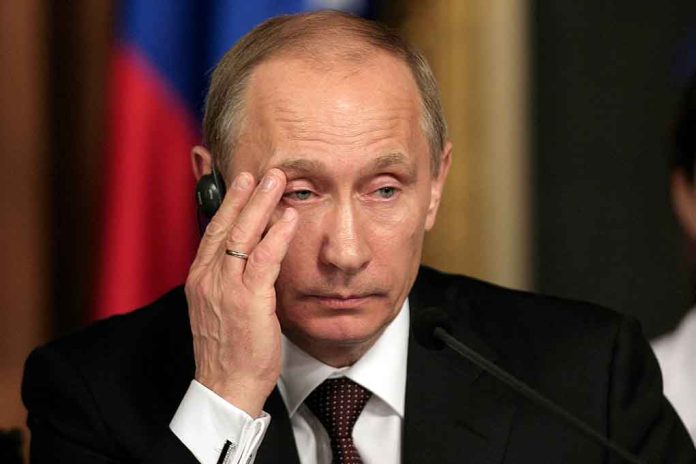 Putin CANCER Bombshell – Inside Report!
(DailyDig.com) – Russian President Vladimir Putin's contributions to the war against Ukraine invite scrutiny. While some experts call the attack a strategic response to Ukraine's request to join NATO, others argue the Kremlin has simply lost his mind. Speculation about his current state of health could provide an explanation for his seemingly desperate and frantic mindset.
Putin 'Suffering From Several Serious Illnesses, Including Cancer': Ukraine Intelligence Chief https://t.co/NW9XlSqBI1 pic.twitter.com/yTHm513bS8

— Daily Wire (@realDailyWire) May 24, 2022
Kyrylo Budanov, who works as a Kyiv military spy chief, spoke with the Ukrainska Pravda online newspaper in an exclusive interview on May 24. He confirmed Putin's cancer diagnosis and suggested that the Kremlin is currently suffering from multiple ailments, causing him to sometimes appear "confused." Yet, Budanov also insists that Putin isn't likely to disappear due to illness any time soon.
Notably, he failed to touch on previously reported assassination attempts.
Some experts speculate that Putin may be suffering from an undisclosed neurodegenerative disease, such as dementia or Parkinson's Disease. However, no one who is willing to talk seems to know for sure.
Sources claim that the leader's decision-making abilities have noticeably declined in recent months. Others have also questioned whether the Kremlin's seemingly erratic behavior stems from chemotherapy or steroid treatments designed to combat blood cancer.
Regardless of what triggered the Russian president's decision to invade Ukraine, it's difficult to deny the fact that it seems as if he underestimated the neighboring country's ability to self-defend. If he is suffering from gross lapses in judgment, one vital question remains: With his health failing and nearly nothing left to lose, what won't Putin do to achieve victory?
Copyright 2022, DailyDig.com