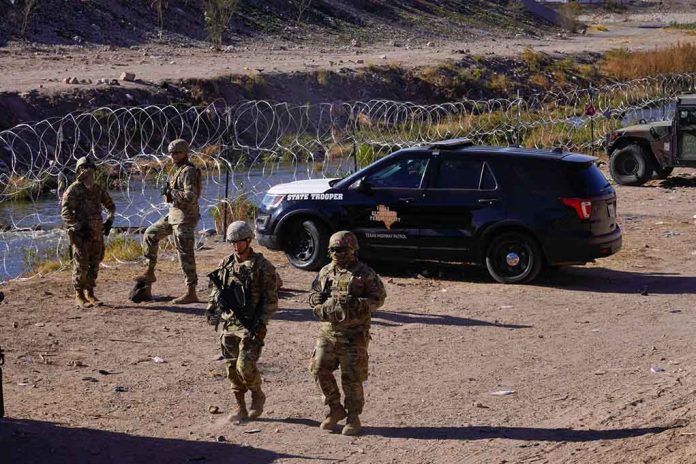 (DailyDig.com) – Razor wire barriers are being erected in highly used areas at the Texas border with Mexico by the Texas National Guard.
Gov. Greg Abbott posted photos of the National Guard installing them on Monday, Jan. 1. He stated that they're working night and day to protect the border in the absence of the federal government.
The National Guard erected a 1,000-yard-long fence of razor wire to prevent what has become a popular border crossing between Mexico and El Paso.
Texas has increased border security endeavors as part of 'Operation Lone Star,' which started in March to combat an increase in illegal border crossings and the stream of illegal drugs from Mexico. Abbott has chastised the Biden administration and Congress for failing to adequately confront the crisis.
"Until Congress acts, or the Biden administration does its constitutionally required job, Texas Guardsmen and Troopers must bear the burden of securing the border. You must continue to keep Texans and Americans safe and protect against an invasion of the southern border," Abbott wrote to the heads of the Texas Department of Public Safety and the Texas Military Department in a November letter.
He directed them to use all available tools and resources to deter illegal border crossings by arresting and returning illegal border crossers, and to catch criminals who violate Texas law.
Major General Ronald Burkett described the Guardsmen's mission as one of dissuasion, sending a message that illegal crossings are not an option.
According to a news release issued by the state, Operation Lone Star has resulted in more than 336,000 arrests of illegals and upwards of 23,000 criminal arrests, with 20,000+ felony charges filed. Also, over 354 million lethal doses of fentanyl were seized.
Texas has transported over 16,000 migrants by bus to sanctuary cities. Three busloads of illegal migrants from Texas arrived near Vice President Kamala Harris's home in Washington on Christmas Eve. According to U.S. Rep. Jeff Van Drew, R-N.J., Harris should have invited them in and started a nice soup line in her residence. She could have looked after them and given them a merry Christmas.
Copyright 2023, DailyDig.com