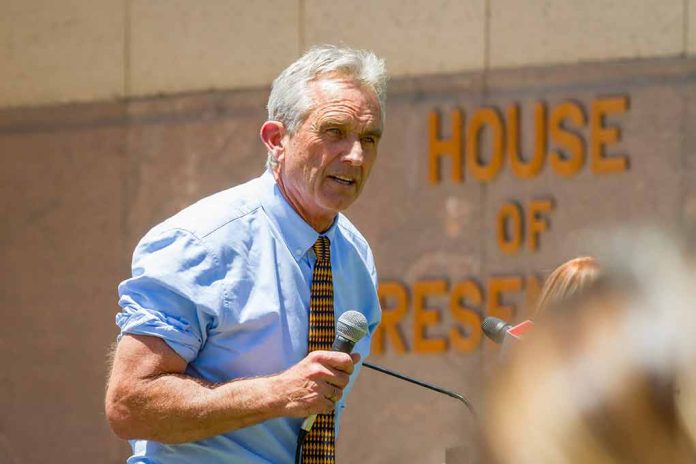 (DailyDig.com) – On April 19, Democrat Robert F. Kennedy Jr., presidential candidate, argued the party was supporting socialism for the wealthy by embracing bank bailouts.
More bank bailouts might be necessary to prevent a contagion, Janet Yellen, Treasury Secretary, told Congress in March.
According to Kennedy, the US government informed 30 million Americans last month that they would see a 90% reduction in their food stamps and welfare payments. There was a reduction of 15 million Medicare recipients. Approximately 57% of Americans don't have access to $1,000 in an economic crisis. In the same month that the war in Ukraine rose to $113 billion in total, it donated to the Silicon Valley Bank (SVB) $300 million. The CDC's budget is $11 billion, and the EPA has a $12 billion budget.
He considers the corrupt consolidation of corporate and governmental power that is transforming America into a "corporate kleptocracy" to be the overarching topic of his speech. The affluent live in luxury under socialism, while the poor are subjected to a ruthless capitalist system.
Federal authorities closed SVB on March 10 following its stock price fall, resulting in a bank run, and then they closed Signature Bank on March 12.
Food costs have gone up due to inflation, which Kennedy claims we induced by printing 10 centuries' worth of currency in the previous 14 years. Over the past two years, we've increased the cost of staple foods by 76%. Now we are rescuing banks and reducing food stamps all in a single month, all while providing for a war we cannot afford. It makes no sense.
On April 5, Kennedy submitted the necessary papers to campaign for president, and on April 17, he publicly launched his race.
In his announcement, Kennedy stated that he would devote the next months and the duration of his presidency to preventing the imposition of a new corporate feudalism in the US through the corrosive combination of state and business power.
Copyright 2023, DailyDig.com