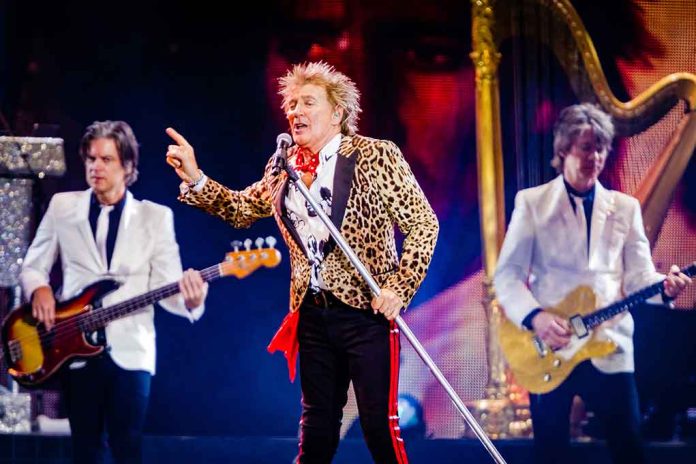 (DailyDig.com) – On March 18, six hours prior to his scheduled concert appearance, the 78-year-old music veteran, Rod Stewart, announced the dreadful news on the website, Instagram. He announced the cancellation of his Australian show with an emoji of a broken heart and a message from the tour producers.
Stewart was scheduled to perform with Jon Stevens of Australia and Cyndi Lauper of the United States.
The artist is presently in the midst of a rigorous global tour, singing his famous songs including "Have I Told You Lately" and "Handbags and Gladrags."
Once March comes to a close, Stewart will have toured every corner of Australia with his "The Hits" presentation.
According to his message, he found out late the morning of his show that he had a viral illness, which had left his throat too sore for singing. He admitted that, like his fans, he is human and sometimes becomes ill. Performing for his audience is his passion; therefore, he's doing his best to recover quickly and return to the stage.
The performer said that he was very sorry to the people who purchased tickets to "A Day On The Green" that he was letting them down.
The concert scheduled for that night at Mt. Duneed Estate, Geelong, featuring Rod Stewart, Jon Stevens, and Cyndi Lauper has been postponed owing to sickness, according to an earlier statement sent to disappointed fans by Roundhouse Entertainment and Live Nation.
They were sorry for the many who had purchased tickets and expressed their regret for the disappointment this caused. The concert plans will be announced in further detail early the following week.
Later in May, Stewart will play a seven-night engagement at Las Vegas' Caesar's Palace. The event in Mexico will follow the one in New Zealand. After performing in Ireland after the Las Vegas shows, the tour will visit the United Kingdom in June and in July.
Venues like Edinburgh Castle and Northampton's Cinch Stadium, as well as Plymouth's Home Park, are on the schedule.
Copyright 2023, DailyDig.com