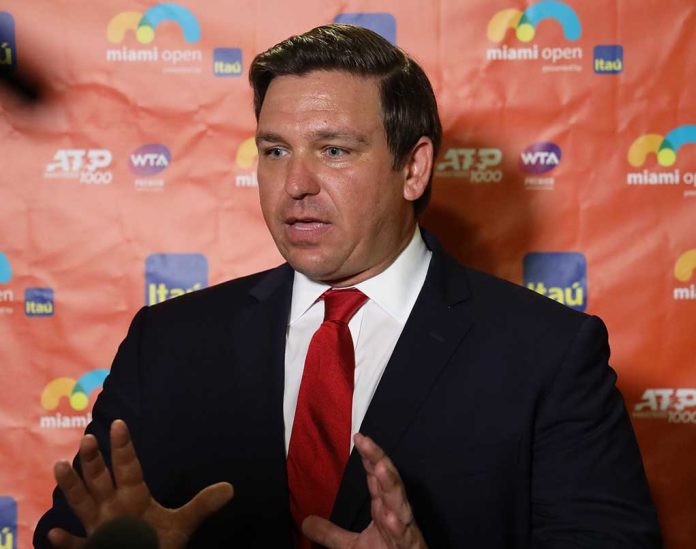 (DailyDig.com) – Cancer is a terrifying diagnosis, regardless of who you are. Sadly, Governor Ron DeSantis (R-FL) recently had to listen as a doctor told his wife that very devastating news. Irrespective of political affiliations, people all over the country are now showing their respect for the governor, his wife, and their ongoing struggles.
While speaking at a St. Pete Beach, FL event, DeSantis described his wife, Casey, as a powerful individual and proclaimed his faith in both her and God. The governor spoke out just one short week after announcing that his wife had breast cancer.
Governor Ron DeSantis on his wife's cancer diagnosis: "I've got faith in her," and "faith in the big guy upstairs." https://t.co/mvJoYZtikE

— Newsmax (@newsmax) October 14, 2021
Governor DeSantis calls the situation a bad break but notes that Mrs. DeSantis has plenty to look forward to in the years to come. The couple has three beloved children under the age of five, which he says aren't really old enough to comprehend Casey's health struggles.
Positivity in the face of severe illness is important. Yet, DeSantis recognizes the long road ahead of his family. They're starting that journey with early treatment appointments.
DeSantis's wife, Casey, certainly isn't giving up anytime soon. She's glad it was her, and not someone who might struggle to cope with the stressful scenario. It's difficult not to feel inspired by such a courageous statement.
Governor DeSantis, for his part, urged constituents to follow their doctor's recommendations and take care of their health. That includes attending scheduled screenings, such as mammograms, prostate exams, and colonoscopies.
The Florida Republican remains a favorite to run for the presidency in 2024. But DeSantis still denies these rumors; he says he's too focused on his job as the leader of Florida to think about a future run. His wife's illness only complicates the matter further.
Copyright 2021, DailyDig.com