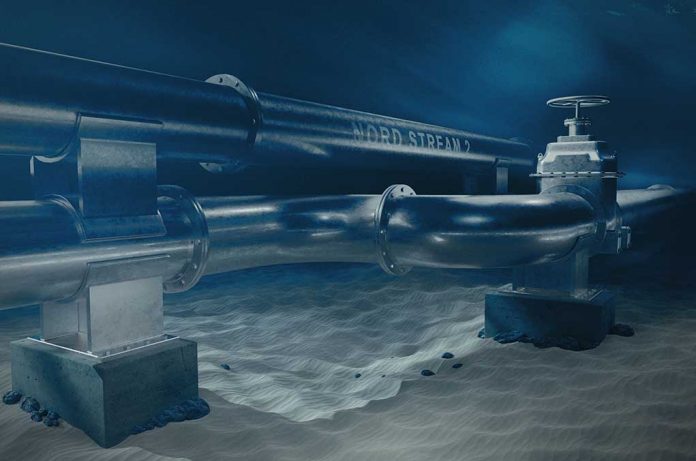 (DailyDig.com) – The controversial Nord Stream 2 pipeline that crosses through Russia and a number of other countries is finally complete. What does this mean for Europe, and what are Russia's intentions? Tensions remain high among those who oppose the project, even now.
Russia announced the completion of the controversial gas pipeline on September 10. However, officials say gas has yet to flow through the system.
Both Ukraine and Poland are strongly against Nord Stream 2, which bypasses the two regions before reaching German soil. In fact, Ukrainian President Volodymyr Zelenskyy fears Russia may use the pipeline as a geopolitical weapon.
⚡ Energy giant Gazprom announced that construction of the controversial Nord Stream 2 gas pipeline, set to double natural gas supplies from Russia to Germany by bypassing Ukraine, had been completed https://t.co/qF6kkgPyB1

— The Moscow Times (@MoscowTimes) September 10, 2021
For that same reason, other countries — including the US — stood against the project from the beginning. Many enforced sanctions on Russia and other involved countries who contributed to its creation. But while Washington wasn't happy with the project's existence, the government did eventually agree not to impose any punishments on German establishments.
That small olive branch relies on the promise that Germany won't allow Russia to utilize Nord Stream 2 as a political weapon.
The gas line bypasses Ukraine entirely. They stand to lose billions of dollars in transport fees; Nord Stream 2 is set to supply Europe with 55 billion cubic meters of gas per year.
Other concerns from European countries stem from the fact that Russia already supplies over a third of their gas. Now, it looks to ramp up the flow, forcing Europe to become even more dependent on the country's resources.
Russian leaders say the gas won't start flowing until Gazprom, the company that owns the pipeline, completes all tests. That feat might take months to complete.
Copyright 2021, DailyDig.com