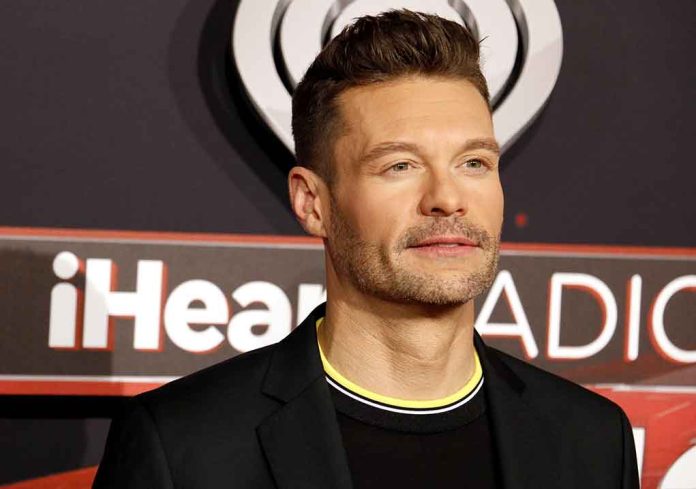 (DailyDig.com) – The New Year 2023 is just around the horizon, and Ryan Seacrest is prepared to welcome in the new year without the use of alcohol.
Variety announced that CNN was reducing imbibing both on and off-camera for their New Year's Eve broadcast. Seacrest, the veteran host of Dick Clark's New Year's Rockin' Eve on ABC, said that he supports the network's move.
He indicated that he does not recommend drinking while on the broadcast. He's not sure how it became a custom, but it's likely a good idea to cut back.
Seacrest, who stated that he and other stars will not drink until after 1:05 a.m., recognized that fans may disagree with CNN's decision to prohibit alcohol use among its presenters.
He joked that there is at least one decent person on the broadcast, which is co-hosted by friends Anderson Cooper and Andy Cohen.
The co-host of Live with Kelly and Ryan hypothesized that CNN executives' decision to limit alcohol consumption in order to maintain the network's decency and reputation may have been influenced by an incident that happened during last year's program. Cohen, who claimed he had been overserved, slammed Seacrest saying, "If you look behind me, you'll see Ryan Seacrest's group of losers performing. I'm sorry but if you're watching ABC, you're watching nothing."
Seacrest said that the hosts mentioned his program at one point, most likely in reference to the now-famous event. He went on to explain that he doubts they would have said what they did if they hadn't been drinking. He joked that he'd bring them some Casa Dragones Tequila to entice them while they were on the air.
However, Cohen believes that Seacrest's tequila present will be unnecessary. The Watch What Happens Live host, who said last year that his quip about Seacrest was the one thing he regretted saying, isn't ready to give up his drinking habit just yet.
Cohen said that his primary goal for the next event is to have fun. That is exactly what he intends to accomplish.
Copyright 2022, DailyDig.com