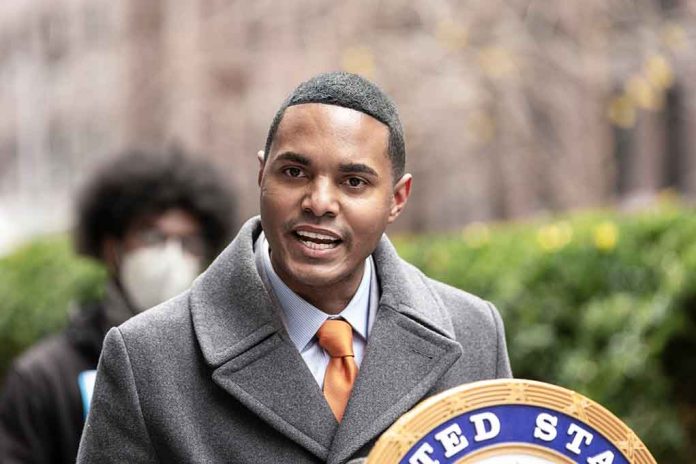 (DailyDig.com) – Democrat Ritchie Torres of New York revealed plans to file a new measure requiring public office candidates to reveal information about their past and credentials under oath.
The Stop Another Non-Truthful Office Seeker (SANTOS) Act is named after Torres' incoming House colleague, George Santos.
Santos, a Republican, has come under pressure in recent weeks after confessing to lying about various assertions he made throughout his successful Congressional race last autumn. He will be sworn in January 2023.
Torres, representing NY's 15th District, has been one of Santos' harshest opponents since news of his lies broke, pushing for Santos to step down before taking office.
Torres stated on Thursday, December 29, that his measure would "require candidates to disclose under oath their employment, educational, & military history so we can punish candidates who lie to voters about their qualifications."
Santos claimed to have graduated from Baruch College, worked at Goldman Sachs, and ran a family-owned real estate company, among other things. The assertions were proven to be untrue.
But Santos has shown no indication of resigning, and he might soon be sworn in as a member of Congress.
Torres' proposed measure drew lots of applause, including from writer Ashely Esqueda, who stated that most people are required to undergo background checks and that lying would exclude a candidate for employment from a job. She stated that she would support this bill.
Others, however, argued that Santos isn't the first representative in Congress to mislead the public about their former accomplishments. Media personality Alma Ohene-Opara claimed that she would like the law to be retroactive because there is now one liar in the Senate. In this case, it was said that Richard Blumenthal, a Democrat from Connecticut, lied about his military service during his successful 2010 campaign.
Several lawmakers have also admitted to embellishing their credentials while campaigning. Joe Biden's first presidential bid in 1988 was derailed by plagiarism allegations. According to the New York Times, Biden later made an apologetic statement, acknowledging that he had misrepresented many facts about his background during a campaign event.
Copyright 2023, DailyDig.com