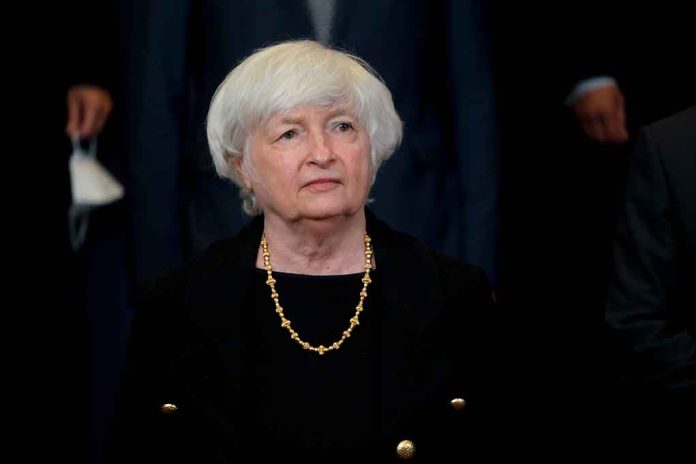 Janet Yellen Finally Says The "Quiet Part" Out Loud
(DailyDig.com) – Inflation is undoubtedly hurting American families. Several factors contribute to the issue, making it much more challenging to overcome. Unfortunately, Secretary Janet Yellen of the US Department of the Treasury believes the decades-long high inflation rate is here to stay — at least for some time.
NO RELIEF IN SIGHT: Biden's Treasury Secretary Janet Yellen on Tuesday testified before Congress that she expects inflation to remain "high." https://t.co/xxCNodlVwi

— Breitbart News (@BreitbartNews) June 8, 2022
During a June 7 congressional hearing, Secretary Yellen told the Senate Finance Committee that leaders should have used an alternative word instead of calling inflation "transitory." While she expressed hope that rates would come down, the treasury head also warned that they would likely remain high well into the near future. Yellen additionally pegged lowering inflation as a top congressional priority.
Lawmakers accuse Yellen and Federal Reserve Chair Jerome Powell of contributing to the currently sky-high 8.3% inflation rate. The Federal Reserve suggests that number should sit at closer to 2% in a healthy economy.
The hearing gave legislators a chance to probe Yellen about the root causes of inflation as well as President Joe Biden's plan to address the problem. In her eyes, the United States is transitioning from a period of "historical recovery" into a time of stability and steady growth. Yellen believes that President Biden's plan to finally get inflation under control without surrendering economic gains in the process centers on pushing through that transition.
Even so, some experts have raised concerns about Yellen's reliability. In a June 1 exclusive interview with CNN's Wolf Blitzer, the treasury secretary conceded to failing to predict how the path of rising inflation rates would unfold. She specifically said she didn't fully understand how supply chain issues would profoundly affect the US economy at the time.
Copyright 2022, DailyDig.com