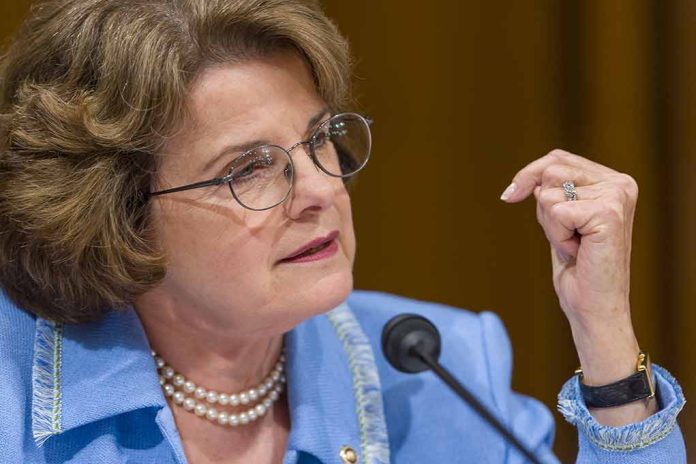 (DailyDig.com) – Dianne Feinstein, a Democrat senator from California, said on May 10 that she will be working fewer hours as she recovers from shingles. It took longer than planned for the 89-year-old to go back to work. There have been demands for her to quit or retire since she has missed all Senate votes since February.
On Tuesday, May 9, after over two months away for health reasons, Feinstein resumed her role as senator in Washington, DC. Although she missed voting on May 9 and 10, her return restored the Democrats' 51-49 advantage. Despite already planning not to run in 2024 for reelection, she has seen more of her Democrat coworkers calling for her to step down now.
Aides wheeled Feinstein inside the Capitol building just after 3 p.m. After a short walk, assisted by her aide, to her seat, she got a standing ovation for her return. She was joined by New York's senator, Chuck Schumer, the Senate Majority Leader, who indicated that Feinstein is eager to work to assist Californians.
According to Feinstein, she's back in Washington and ready to go back to work in the Senate. She appreciates everyone's support over the last several months and the superb medical attention she got in San Francisco.
She's made great strides and is back in Washington, but the shingles virus is still giving her some trouble. She hopes those problems will go away as she continues to rehabilitate, and her doctors have told her to take it easy when she returns to working in the Senate.
Some Democrats in the House have persisted in demanding Feinstein's resignation on the grounds that she lacks the ability to do her job. Since her absence, the Senate Judiciary Committee, which she serves on, has been unable to go forward with confirming a number of candidates. Barbara Lee, Katie Porter, and Adam Schiff, all Democrat representatives, are vying to take her position in Congress.
Copyright 2023, DailyDig.com