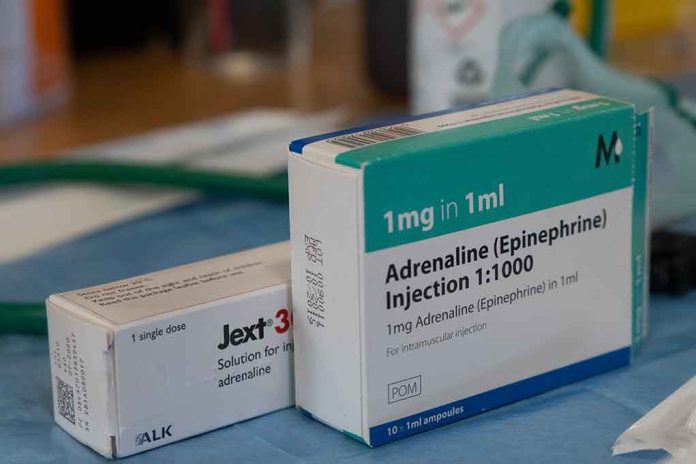 Spectrum Laboratory Products, Inc. is voluntarily recalling three lots of Epinephrine (L-Adrenaline) USP, a bulk active pharmaceutical ingredient (API) used to manufacture or compound prescription products, to the user level. Customer complaints have found the product to be discolored.
Risk Statement: Epinephrine is a critical medication used during life-threatening conditions which can affect any age and any person. The use of a finished dose product manufactured or compounded with this recalled product could result in less-effective product, and incomplete treatment of life-threatening conditions including, low blood pressure, heart failure, anaphylaxis, irregular heartbeat, and heart attack. Treatment with a less-effective product, essentially underdosing epinephrine, could result in death. Spectrum Laboratory Products, Inc. has not received any reports of adverse events related to this recall.
Epinephrine (L-Adrenaline) USP bulk API Powder, is used in manufacturing and compounding of finished dose epinephrine prescription products which can be used to treat a variety of medical conditions including anaphylaxis and other severe immediate hypersensitivity reactions, asthma, bronchospasm, airway edema, nasal congestion, dilation during intraocular surgery, vasoconstrictor with local anesthetics, hypotension or shock, heart failure, bradycardia or atrioventricular block, and sudden cardiac arrest. The Epinephrine (L-Adrenaline) USP bulk API Powder is packaged in amber glass bottles enclosed in a vacuum sealed pouch. NDC's, Package sizes, lot numbers and expiration dates can be found in the table below. The affected Epinephrine, USP product can be identified by Spectrum catalog number EP130. Product was distributed directly from Spectrum facilities nationwide in the USA and to Canada.
Product
NDC
Package Size
Lot #
Exp Date
Epinephrine, USP (Product code EP130)
49452-2740-2
1 KG
1KG0865
31-Mar-2023
49452-2740-1
100 GM
2KL0353
2KF0151
30-Sep-2023
31-Mar-2023
49452-2740-4
1 GM
49452-2740-3
25 GM
49452-2740-5
5 GM
Spectrum Laboratory Products, Inc. is notifying its distributors and customers by certified mail, email and phone, and arranging for return of all recalled products. Consumers, distributors, or retail pharmacies that have Epinephrine, USP catalog number EP130, which is being recalled, should stop use immediately and return to place of purchase.
Consumers with questions regarding this recall can contact Spectrum Laboratory Products, Inc. by 800-772-8786 or [email protected] on Monday to Friday from 8 am to 5 pm, pacific time. Consumers should contact their physician or healthcare provider if they have experienced any problems that may be related to taking or using this drug product.
Adverse reactions or quality problems experienced with the use of this product may be reported to the FDA's MedWatch Adverse Event Reporting program either online, by regular mail or by fax.
Complete and submit the report Online
Regular Mail or Fax: Download form or call 1- 800-332-1088 to request a reporting form, then complete and return to the address on the pre-addressed form, or submit by fax to 1-800-FDA-0178
This recall is being conducted with the knowledge of the U.S. Food and Drug Administration.