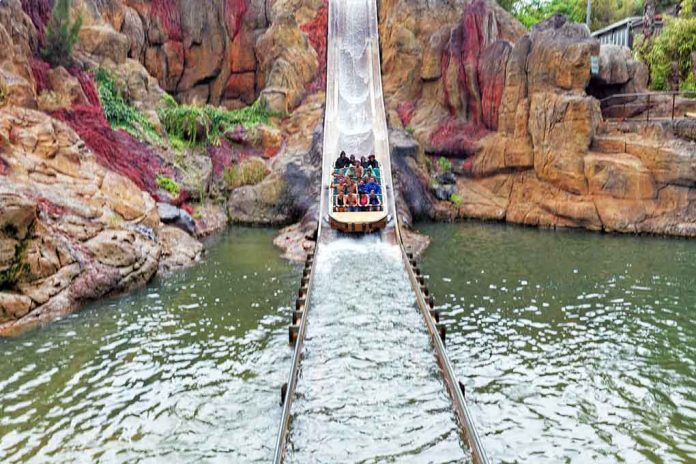 (DailyDig.com) – Walt Disney World closed Splash Mountain on Jan. 22. Magic Kingdom in Florida had a 220-minute wait time Sunday night as longtime fans made one last splash. Some 'Disney grownups' sold "Splash Mountain water" on eBay after the rides closed. Sellers said they took the water during the ride's final days.
Splash Mountain is still running at Disneyland. Checking their website and app will allow visitors to monitor availability daily.
Oriental Land Company, which gives the Tokyo Disney Resort its license, does not plan to modify Splash Mountain.
Splash Mountain's Br'er Rabbit tale is linked to "Song of the South," a 1946 Disney film that was criticized for romanticizing plantation life.
"I've felt, as long as I've been CEO, that 'Song of the South' was, even with a disclaimer, was just not appropriate in today's world," Disney CEO Bob Iger stated in March 2020.
The same year, a viral petition to replace Splash Mountain's theme won with 21,319 signatures. Disney said it had been planning to shut it down since 2019. "The Princess and the Frog" will soon replace Splash Mountain.
Tiana's Bayou Adventure will soon replace Splash Mountain at Disneyland and Disney World. Walt Disney Imagineering chief creative director Ted Robledo says that this is not a remake of "The Princess and the Frog." He said that Tiana's Bayou Adventure follows the plot a year after the animated movie's story.
Walt Disney Imagineering executive creative producer Charita Carter underlined the significance of realism and complexity in Tiana's universe. Carter claimed she was a fantasy that originated in reality. She wants Louisianans to ride Tiana's Bayou Adventure and to remark that it feels right.
Carter said Tiana, Prince Naveen, Louis the alligator, and other characters from "The Princess and the Frog" will star in the new ride with their original voice actors.
Robledo said Imagineers sought out bayou creatures and envisioned how they could construct instruments from such materials. Like the movies and New Orleans, the trip will feature music.
Copyright 2023, DailyDig.com