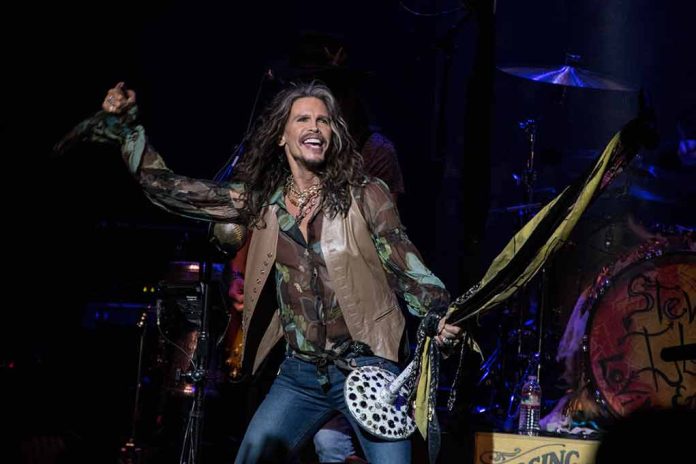 (DailyDig.com) – Aerosmith is "Living on the Edge" after postponing several gigs from their farewell "Peace Out" tour owing to Steven Tyler's vocal cord difficulties.
Tyler, 75, has been ordered by his doctor to refrain from singing for a duration of thirty days after damage to his vocal cords caused bleeding. The musician may or may not need surgery and further medical care.
Tyler said on September 12 that he is devastated by the news that he can't perform for a while. He said that his doctor had given him severe instructions to refrain from singing for the next month. On September 9th, during a concert, he hurt his vocal cords, which eventually bled. They need to push back a few shows to give their supporters the quality performance that they deserve.
The rock star's inability to sing was not an isolated incident. After rupturing a blood artery in his throat in 2006, Tyler went to Massachusetts General Hospital, where he was treated by world-famous surgeon Dr. Steven Zeitels. Dr. Zeitels, who has worked with many famous people, said that metal singers are more likely to damage their voices than those in any other musical genre.
According to Zeitels, when they scream as they are singing, it traumatizes the vocal cords. However, most vocal problems are just trauma, not necessarily accompanied by bleeding. They perform nonetheless because they hate disappointing their fans.
He said that Tyler experienced bleeding, which does happen sometimes. Using a specific laser that is also effective against cancer, he devised a new method around seven years ago. Because it doesn't damage the vocal cords, it may reduce bleeding and even improve voice performance. In the past, this would cauterize the cords, which would cause them to harden. It's an exact procedure, so vocalists needn't worry that their voice will be damaged in any way.
In August of 2006, Tyler received one of the first phonosurgery voice surgeries performed.
Copyright 2023, DailyDig.com