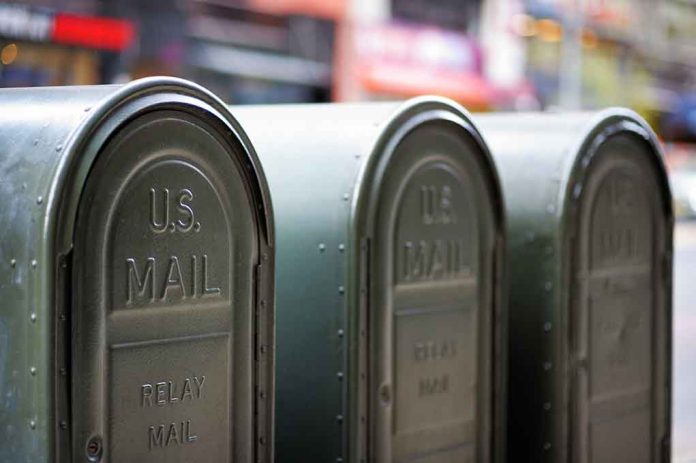 (DailyDig.com) – In 2018, Congress passed an economical and reasonable measure using proven technology to limit the shipment of fentanyl into the US.
President Trump signed the STOP Act on October 24, 2018, mandating AED (advanced electronic data) on all overseas goods handled by the USPS. Since 2002, private carriers have been required to carry the AED.
Since the law was signed, U.S. Customs and Border Protection (CBP) has done all that's possible to undermine enforcement, allowing drug traffickers to exploit one of their dependable shipping networks. Chinese dealers advised US fentanyl purchasers to use normal USPS mail. Slower than other services, the USPS is more likely to deliver the drug.
Fentanyl sellers brazenly promoted USPS packages online. Incoming overseas parcels did not require an AED, according to the Permanent Investigations Subcommittee of the Senate in January 2018. Their report also showed that when packages have the AED, it helps monitor suspect parcels, which are intercepted before they reach the US.
CBP failed to issue STOP Act enforcement rules before October 24, 2019. They also refused to require that Chinese parcels contain AEDs that reached the US. Shippers simply re-routed cargo to the US through dozens of AED-exempt nations, since suspicious packages are not routinely seized.
CBP claims that the STOP Act is no longer needed since fentanyl manufacturers have relocated from China to Mexico, even though seizures at entry ports have increased. In May 2019, the Chinese government prohibited fentanyl manufacture and sales under U.S. pressure.
Since 2018, fentanyl-related fatalities have increased, making an enforcement-based policing strategy necessary. Fentanyl from China may still be entering the US by mail. A U.S. Government Accountability Office investigation in May 2022 indicated that USPS and cars were the main ways illicit narcotics entered the country.
USPS and CBP must also closely examine Mexican goods since five fentanyl packages were delivered on schedule without an AED. Six people shipping fentanyl via USPS were apprehended in Wisconsin on March 20.
A bipartisan caucus in Congress wants CBP accountability. Among those demanding answers are Senators Rick Scott, Maggie Hassan, Ed Markey, and Amy Klobuchar.
Copyright 2023, DailyDig.com