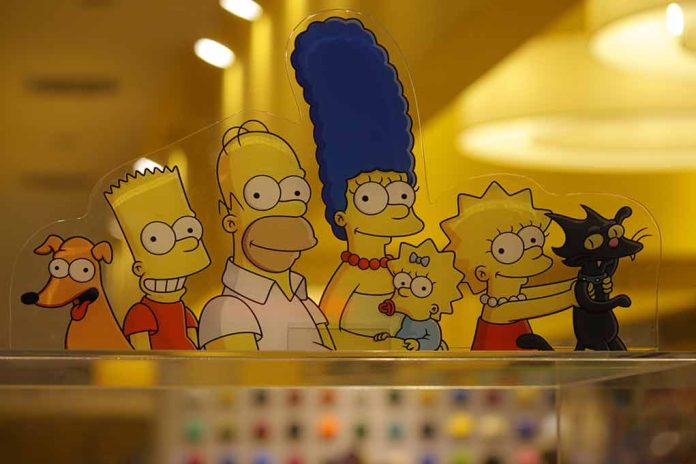 (DailyDig.com) – Season 34 of "The Simpsons" will premiere on Disney+, and to celebrate, the service released an anime-style preview of one episode of the series's "Treehouse of Horror."
The initial broadcast dates for Season 34 of "The Simpsons" series were September 2022 through May 2023 on FOX. One of the 22 episodes this season marks the series' 750th overall, "Homer's Adventures Through the Windshield Glass." Rob Lowe, Anna Faris, Jade Novah, Fred Armisen, Simu Liu, John Roberts, Will Forte, Melissa McCarthy, Aubrey Plaza, Lizzo, and more all had memorable cameos in Season 34 of "The Simpsons."
The first peek at one of the season's episodes of "Treehouse of Horror" Halloween specials was also published with the streaming debut of the season. The picture is from the episode named "Death Tome," a humorous homage to the classic anime "Death Note." Screaming Lisa Simpson anime-style is shown in the picture, with a Simpsons-style spooky Ryuk lurking in the background. Both the artwork and the episode pay homage to the frightening anime in question. Two "Treehouse of Horror" episodes premiered in Season 34, making it the first season to do this.
The Simpsons has aired longer than any other primetime scripted series. "The Simpson" family (Bart, Homer, Lisa, Marge, and Maggie) are the protagonists of this animated series. However, in the thirty years and counting since the show's inception, its cast has grown to include almost every resident of Springfield.
Matt Groening developed the show, which debuted in December 1989 on FOX. It didn't take long for "The Simpsons" to become a cultural touchstone of the '90s. The movie "The Simpsons Movie" came out in 2007.
Seasons one through thirty-three of the show are available on Disney+ right now, along with "The Simpsons Movie," a number of Disney+ exclusive specials, and a slew of short films. In "The Simpsons Collection" section of the streaming app, users may access the entire library of Simpsons episodes and specials.
The debut of "The Simpsons" Season 35 is slated for October 11, 2023, on FOX.
Copyright 2023, DailyDig.com