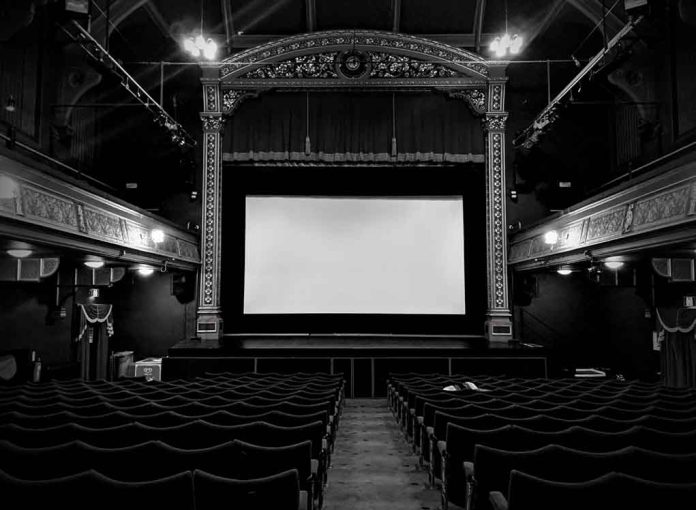 (DailyDig.com) – Jonathan Demme's concert film of Talking Heads', "Stop Making Sense," celebrated its 40th anniversary with the largest live event showing in Imax history.
The CEO of Imax, Rich Gelfond, said that they are thrilled to be able to share this occasion with the Toronto International Film Festival (TIFF) and their fans throughout the world. "Stop Making Sense" sounds and looks fantastic in Imax and better than what can be seen in normal theaters. The cinema technology firm has sought out new income sources from its Imax Live network of celebrity Q&As, concerts, and other showings.
The concert video featuring Talking Heads made $640,839 on September 11, and 25 screens even sold out at 165 Imax venues throughout North America. The international premiere took place at the Scotiabank Theatre during TIFF.
Demme's 1984 film, which was restored to 4K by A24, was also shown in London at the BFI IMAX. Director Spike Lee led a live-streamed Q&A after the showing of "Stop Making Sense." Lee directed "David Byrne's American Utopia," which had its world premiere at TIFF three years before.
David Byrne, Jerry Harrison, Chris Frantz, and Tina Weymouth, the original quartet, were all present in Toronto.
The Talking Heads film was purchased by A24, and the company had just finished a huge 4K restoration in preparation for a theatrical run that will begin on September 22 in Imax cinemas and continue in regular theaters on September 29. Gary Goetzman served as the film's producer, while the late Jonathan Demme (who also helmed "Silence of the Lambs") served as the film's director.
Imax is shifting its focus to more premium film screenings with live Q&A sessions with actors and directors (Imax Live events) to bring in more people who have been watching movies at home.
The condensed version of Peter Jackson's "The Beatles: Get Back" documentary premiered in approximately 70 Imax cinemas throughout North America and also at London's BFI Theatre in January 2022. The three-time Academy Award-winning "Lord of the Rings" filmmaker then took questions from the audience in attendance.
Copyright 2023, DailyDig.com