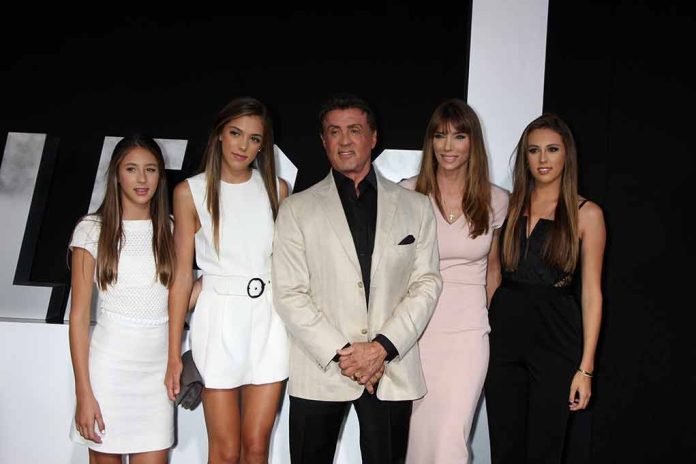 (DailyDig.com) – You've watched him in the roles of a world-class boxer, an interstellar monster, and a vindictive Green Beret. Here, Sylvester Stallone will play a man who feeds his dog a taste of spaghetti off his fork.
It will follow parts of the family's current life conflict while also providing lots of enjoyable moments, such as his daughters trying to establish their own place in society with a famous last name and Stallone hanging out with renowned pals.
Paramount+ released a teaser for their new docuseries "The Family Stallone" on April 11, offering viewers a first glimpse at Stallone's personal life with his wife, Jennifer Flavin, along with their three children, Scarlet, Sistine, and Sophia.
Flavin and her spouse of 25 years reconciled after she filed for divorce in August. Stallone discussed his reconciliation with his wife at the launch of his Paramount+ drama "Tulsa King" last November. When asked about the possibility of his family appearing on reality television, he quips, "Watch out."
Stallone has said that the marital problems would be shown in the new program. Those he cares about are aware of life's imperfections as well as the rarity of a genuine connection. Sometimes he prioritizes work above his loved ones, but he knows that's a mistake he won't repeat.
He said he wanted to do the reality show to spend more time with his family. He said that he believed it was going to be the best home movie ever. This is an opportunity for him to spend time with his children in a professional setting, where he can see them and they can observe him. The reality, as you will see, is revealed. He doesn't see it as a weakness to not demand authority.
On May 17th, Paramount+ will host the world premiere of "The Family Stallone" in the United States, Brazil, Latin America, and Canada; on May 18th, the premiere will take place in Italy, Australia, and the United Kingdom; and further foreign markets will follow.
Copyright 2023, DailyDig.com