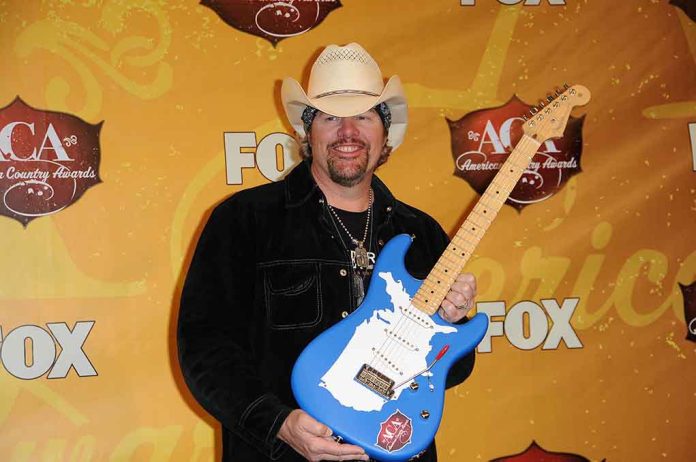 Top Country Star Reveals DEVASTATING Health Diagnosis
(DailyDig.com) – Country music legend Toby Keith made a devastating announcement as he informed fans of his recent stomach cancer diagnosis. The singer of "Courtesy of the Red, White, and Blue," now 60, told fans of his health condition via Twitter. Keith mentioned how he's gone through chemo and radiation treatments, in addition to surgeries, over the past six months.
After recording for several years, Keith saw his initial rise to fame after the release of his 1998 single "How Do You Like Me Now?" His portfolio includes a total of 26 albums ranging from studio to Christmas and compilation. He's had twenty #1 hits and another 21 separate songs hit the top 10 lists over the span of his career. His most recent album, Peso In My Pocket, was released in October 2021 and was his first studio release in five years.
The country music singer assured everyone his prognosis was "so far, so good" adding that he needs "time to breathe, recover and relax." Keith asserted he hopes to spend the downtime with his family, letting fans know they'll see the performer "sooner than later," and that he's excited for that moment.
— Toby Keith (@tobykeith) June 12, 2022
The singer has been performing and entertaining fans throughout his diagnosis, treatment, and recovery. While Keith canceled the July 28 show at the Ohio State Fair, it's unclear if the country music star will be cutting any other scheduled events.
Our hearts go out to Toby Keith as he courageously battles cancer. Tickets purchased from Ticketmaster for his #ohiostatefair show on July 28, which has been cancelled, will be automatically refunded. Any information about an alternate concert on July 28 is forthcoming. https://t.co/Qi7rl0UagL

— Ohio State Fair (@OhioStateFair) June 12, 2022
The singer founded the Toby Keith Foundation in 2006, with a goal of providing resources to and alleviating the stress of families of children with cancer. The foundation later went on to open the OK Kids Korral in order to provide children with cancer a safe and convenient place to live with their families during treatment.
Keith was flooded with support after his announcement, with fans from around the world wishing him a speedy recovery.
Copyright 2022, DailyDig.com