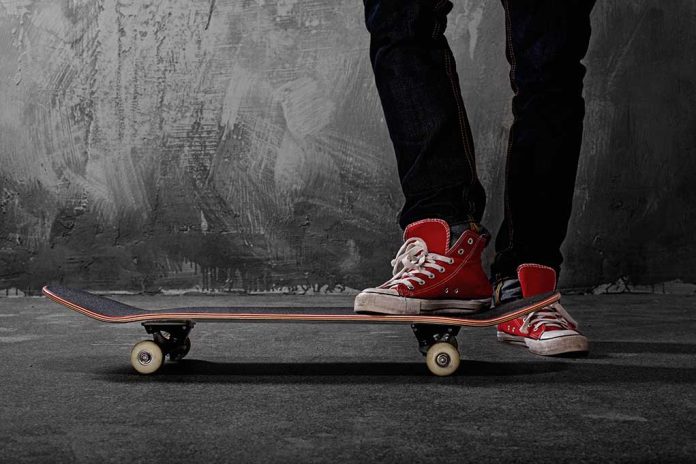 (DailyDig.com) – Skateboarding legend Tony Hawk once had a job as a stunt double for David Spade in the 1987 film "Police Academy 4: Citizens on Patrol," but the gig fell through when Hawk hit puberty.
Hawk mentioned his original audition for the film on an episode of Spade's "Fly on the Wall" podcast. The movie chronicles a group of citizen volunteers who have been recruited to work with law enforcement personnel to combat crime.
Since he and David Spade are both 'goofy-footed' skaters, the film's producers opted to recruit him even though he didn't get a starring role. Kyle, depicted by the former "Saturday Night Live" cast member, is a skater who was sentenced to the program for his criminal activity.
Hawk, the professional skateboarder, revealed that between the time of him being recruited as Spade's stunt double and the start of shooting, he went through puberty.
Hawk said he had a growth spurt to explain the change. For the initial week, everyone assumed he was much too tall to double for Spade. The director had told him that, although he was an excellent skater, he wasn't a very good stunt double. Stacy Peralta, the skateboarding second-team director, was constantly pushing him to keep a low profile. After Hawk stated he was trying, he was just sent home. To put it simply, "I got fired."
Spade claims that skater Chris Miller replaced Hawk, but that shooting inconsistencies occurred since Miller isn't 'goofy-footed' like Spade.
Hawk noted that despite Miller physically seeming more like Spade, his footing was not the same; hence, his and Spade's footing kept shifting throughout the skate scenes.
The legendary skateboarder did make a cameo in the film. Spade said that Peralta had asked him to do one stunt of his own, a skateboard jump, for a certain scene. Spade quipped that he gave it a go but crashed out on the first try, so Hawk stepped in to film it.
According to IMDB, "Police Academy 4: Citizens on Patrol" was Spade's first cinematic role.
Copyright 2023, DailyDig.com