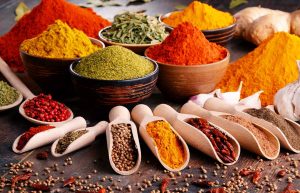 Trong Foods International of Santa Ana, CA, is recalling certain of its 4 ounce bottles, 16 ounce bottles, and 4 ounce bags of "Madras Curry Powder" (CA RI NI AN DO "KIM TU THAP") because they may contain undeclared peanuts. People who have allergies to peanuts run the risk of serious or life-threatening allergic reaction if they consume these products.
The recalled "Madras Curry Powder" was distributed within New York State in retail stores and through mail orders and possibly in Maryland, New Jersey, and California. The 4 ounce bottle bears UPC code 3960600152, the 16 ounce bottle UPC Code 3960600154, and the 4 ounce bag UPC Code 3960600154. All three packages subject to this recall are labeled BEST BY 05052026TF. The best buy code is located on the top of the cap of the 4 ounce bottle, on the top of the cap on the 16 ounce bottle, and in front of bag on the right side of the four ounce bag. On the right side of the label above the Bar Code is the Company's name and address.
No illnesses have been reported to date in connection with this problem.
The recall was initiated after routine sampling by New York State Department of Agriculture and Markets Food Inspectors and subsequent analysis by Food Laboratory personnel revealed the peanut-containing product was distributed in packages that did not reveal the presence of peanuts.
Consumers who have purchased 4 ounce bottles, 16 ounce bottles, or 4 ounce bags of the "Madras Curry Powder" (CA RI NI AN DO "KIM TU THAP") UPC codes 3960600152, 3960600154, or 3960600156 and labeled BEST BY 05052026TF are urged to return them to the place of purchase for a full refund.
Consumers with questions may contact Customer Service at the company during the hours 9:00 am and 3:00pm, (Pacific Time Zone), Monday thru Friday, at 714–550-0372.
See the full recall here.