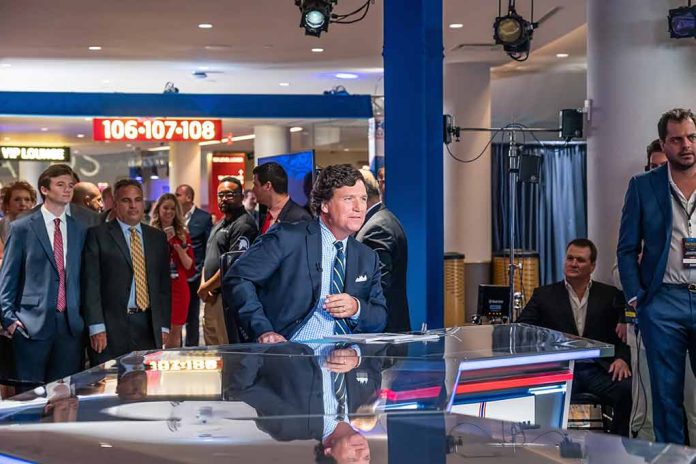 (DailyDig.com) – On July 7, Tucker Carlson claimed that President Joe Biden's administration would not release the remaining JFK assassination records because they implicate groups rather than individuals.
If re-elected in 2024, former President Trump has pledged to divulge the remaining parts of secret papers about the 1963 assassination of the president. He disclosed 2,800 assassination-related papers in 2017 and set a three-year limit on the publication of further records.
In 2021 and 2022, President Joe Biden revealed further records, but his detractors said he was still hiding something. On June 30, 2023, the National Archives made available some new materials.
During a conversation with Russell Brand, a podcast host, Carlson questioned Biden's recent reclassification of the Kennedy records, which came 60 years after Kennedy's killing. There isn't even one person involved left alive. He pondered the nature of the U.S.'s purported showing of methods and sources to the world via declassification.
He continued to say that these methods and sources were so out of date that they were useless. In 1963, they employed invisible ink. He pondered why, 60 years after the killing of JFK, our government would still be covering it up.
Carlson responded to his own query by saying the explanation was obvious: because it points the finger at institutions rather than specific people for their role in a murder and the attempted overthrow of the U.S. government. There was government involvement in a coup d'état in the U.S. That is indeed the case. He claimed to have interviewed a person who had seen the paper, giving him absolute certainty on the matter.
The government shouldn't ever cover up the truth unless doing so would endanger the lives of its people in the very near future. Over a billion government records dating back to World War II are still classified.
According to Carlson, this kind of "privacy "violates the principles of democracy. Someone is in charge of the government, but they aren't letting the people of the United States know what they're up to. That's not the way democracy works, he said.
Copyright 2023, DailyDig.com