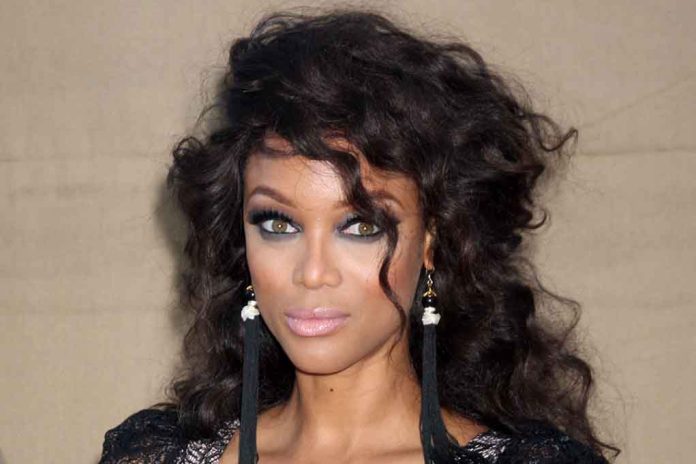 (DailyDig.com) – Tyra Banks, of "Dancing with the Stars," is leaving the show. The 49-year-old supermodel is leaving her role as host and executive producer of the Disney+ dance contest series after three years.
She has watched every season of "DWTS." It always took her back to her days of strutting her stuff on the catwalk, with its mix of joy, watching celebrities move past their inhibitions, smoldering dance performances, and emotional intensity.
She has decided to devote more time to working on her venture and being an entrepreneur. She'd also like to work on TV production, but from behind the camera. She feels it's time to make the transition from the "ballroom to the boardroom."
Banks was pressed for an explanation of her departure from "DWTS" when she was asked if she was, in fact, leaving. She responded by saying she feels the time has come. She is an entrepreneur and puts everything she has into her work. She wants to be a producer of new television and has other priorities than hosting a television program.
Banks replaced Tom Bergeron and joined "DWTS" with Erin Andrews in 2020 for season 29. Since the show's debut in 2005, Bergeron, now 67 years old, has co-hosted the dance contest with a number of other personalities. In 2014, Andrews, then 44 years old, began co-hosting with Bergeron.
In the past, Banks has hosted her own show, "The Tyra Banks Show", and served as a co-host on "America's Got Talent" for its twelfth season. She's started a few businesses, among them a brand of ice cream called "SMiZE Cream".
ABC announced Alfonso Ribeiro would join Tyra Banks as co-host for season 31 of "DWTS" in July 2022. It was also the initial season of the show after it was shifted from its original home on ABC to Disney+ for online streaming.
This fall, Disney+ will debut Season 32 of "DWTS."
Copyright 2023, DailyDig.com