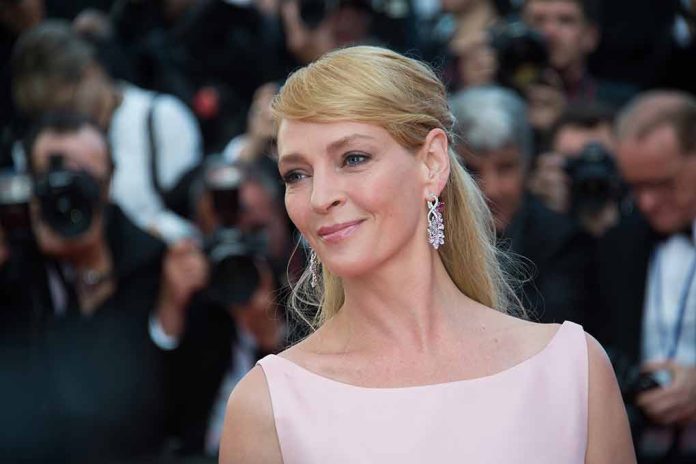 (DailyDig.com) – On September 29, you may see "The Kill Room," a comedic criminal thriller. Directed by Nicol Paone and starring Uma Thurman, Samuel L. Jackson, and Joe Manganiello, the film has a trailer available through Shout! Studios.
The last time Jackson and Thurman worked together was in that 1994 film by Quentin Tarantino, "Pulp Fiction." "The Kill Room" follows a dealer in art, a hitman, and his employer, whose money-laundering schemes unintentionally merge the criminal and the artistic spheres.
Thurman received high acclaim from director Nicol Paone, who lauded her not only for her acting but also for her work as a partner and producer in bringing the film to viewers. According to Paone, the movie was inspired by the urge to inject some humor into the art world. Thanks to Thurman, he now has Jackson on board. Seeing Thurman and Jackson appear on the screen in tandem is like seeing a rare cosmic occurrence that somehow puts everything in perfect harmony.
Patrice Capullo, the protagonist of Thurman, is in a bind since her art gallery isn't making any money. Jackson's Gordon Davis struggles with the need for a more efficient method of money laundering for his and Manganiello's Reggie Pitt's ill-gotten earnings. The intersection of the artistic and criminal communities via a fortuitous encounter gives rise to a bold scheme.
Patrice needed an item of marketable worth. As a response, Reggie paints a picture that sells for an eye-popping figure. As a result of the accidental release of the astounding amount paid for this painting by an unknown artist, he has received extensive, yet unwanted, media publicity.
Importantly, this is the first picture in which Thurman and her daughter, Maya Hawke, appear together. Dree Hemingway, Larry Pine, Debi Mazar, Tom Pecinka, Jennifer Kim, Alexander Sokovikov, Amy Keum, Matthew Maher, and Candy Buckley are just a few of the stellar actors that round out the film's supporting ensemble.
On September 29, "The Kill Room" will be released in cinemas around the country by Shout! Studios.
Copyright 2023, DailyDig.com