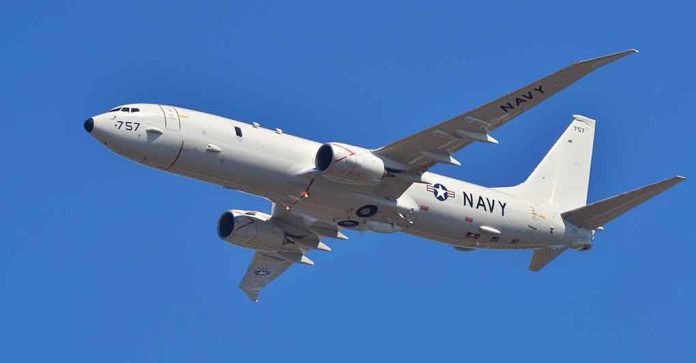 (DailyDig.com) – The conflict continues in Ukraine as Russian forces show no sign of retreat. President Volodymyr Zelenskyy of Ukraine has essentially begged for support from other countries with little to no result. While President Biden has asserted the US wants nothing to do with the conflict aside from condemning Putin, it's coincidental that a US spy plane was spotted not long before a Russian warship took damage from Ukrainian missiles.
REVEALED: US maritime surveillance plane was over Black Sea minutes before Russian flagship Moskva was 'hit by Ukrainian missiles' https://t.co/ECPwVGWzsV

— Daily Mail Online (@MailOnline) April 20, 2022
On April 13, Moskva, the flagship of Russia's Black Sea Fleet, sank. Originally, Moscow claimed the ship caught on fire, but such wasn't the case as the Kremlin later admitted. Instead, Daily Mail reports it was actually Ukrainian Neptune missiles that catastrophically damaged the ship, causing it to sink.
Oddly, there was a US surveillance craft spotted not too long before the missile strike, a Poseidon P-8. Daily Mail shared reports from The Times that the P-8 aircraft, based on Boeing's 737-800 and packed with surveillance equipment, took off from Sicily, Italy. Before reaching the Black Sea's coast, the aircraft turned off its trackers, meaning its flight path couldn't be seen online. The P-8 remained in this state for three hours before popping back up on radar.
The US Navy, of course, denies providing any information to Ukraine that led to the attack. Even so, it seems quite coincidental that a surveillance craft took off, hid for hours, and then a Russian warship took hostile fire and eventually sank.
Copyright 2022, DailyDig.com