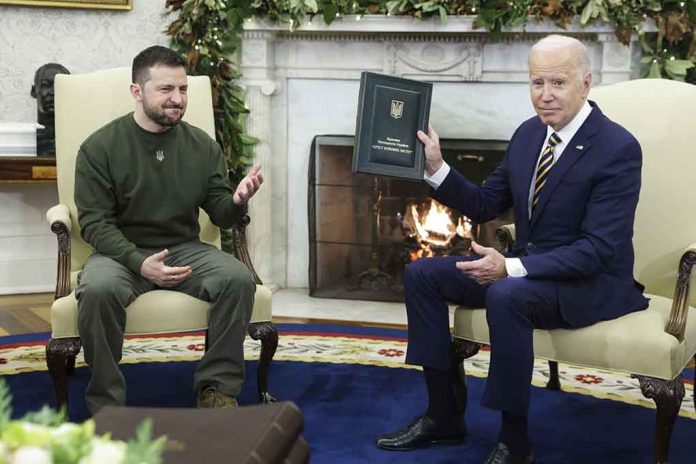 (DailyDig.com) – As of January 2023, the US government has given Ukraine about $27 billion in military gear and weapons to defend against Russia's invasion. The US has sent almost 1 million rounds of 155 mm howitzer ammunition, 40,500 anti-tank missiles, 5,200 Excalibur rounds, 1,600 Stinger anti-aircraft missiles, and many more weapons and ammunition.
The Pentagon acknowledged that they were plundering their foreign stores of weapons to maintain readiness and supply Ukraine. On Thursday, Jan. 19, Deputy Defense Press Secretary Sabrina Singh told reporters that the Pentagon was supplying Ukraine's demand for more weaponry to fight their Russian war with weaponry and munitions from Israel and South Korea.
Due to supplying such a large quantity of weapons and ammunition to Ukraine so soon, research from the CSIS (Center for Strategic and International Studies) claims that the US military's remaining stockpiles are inadequate.
The CSIS analysis states that low ammunition supplies might hinder military training. Degraded support for war preparations, such as a Chinese invasion of Taiwan, a conflict with North Korea, or another European war, would likewise pose strategic concerns. The report concludes that these reduced weapons inventories should spur national security discourse regarding weapons levels and implications.
The Heritage Foundation's Center for National Defense states that "[t]he fact that only a few months of fighting in Ukraine consumed such a large percentage of US Stingers and Javelins suggests that the DOD's plans, and the stockpiles that result from them, are insufficient."
Chairman of the Joint Chiefs of Staff, Army General Mark A. Milley has declared that we would back Ukraine for as long as it takes to ensure Ukraine's freedom, irrespective of the consequences on US weapons supplies.
To meet the demand from Ukraine and the US military, the US is planning to increase the manufacturing of a vital artillery round Ukraine has used to repel Russia's invasion. The current proposal calls for the US to generate 90,000 155 mm rounds per month within two years. That's more than twice Army Secretary Christine Wormuth's objective of 20,000 rounds a month by spring and 40,000 by 2025.
Copyright 2023, DailyDig.com